World news story
Joint Statement on Ukraine form high commissioners in Guyana
We strongly support a peaceful resolution to the crisis in Ukraine and hope that any high-level talks between the two leaders...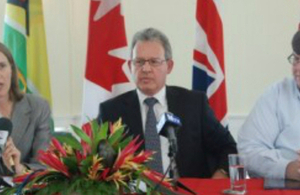 JOINT STATEMENT ON UKRAINE
High Commissioner Giles:
Good morning. Ladies and gentlemen, mesdames et messieurs. My colleagues and I are gathered here united to talk about Russia's actions in and towards Ukraine. We are pleased to hear of the ceasefire agreement on the Ukrainian-Russian border, but still remain cautious given Russia's recent track record of disregarding diplomatic and international order and its blatant violation of its neighbor's sovereignty.
In February 2014, Russia began its illegal military intervention in the Ukrainian territory of Crimea. Russia's annexation of Crimea, a territory that has belonged to Ukraine since 1954, is a clear violation of the United Nations Charter; Russia's commitments under the Helsinki Final Act; its obligations to Ukraine under its 1997 Treaty of Friendship, Cooperation and Partnership; the Russia-Ukraine 1997 basing agreement; and its commitments in the Budapest Memorandum of 1994. The illegal annexation of Crimea was only the beginning.
In May, Prime Minister Harper described his fears of a slow-motion invasion in Ukraine. In August, our fears were realized as Russia openly began sending troops into Ukraine, an obvious invasion of its sovereignty. Russian forces are actively fighting inside Ukraine. For months now, Russia has been providing separatist fighters with heavy equipment in the form of tanks, armored vehicles, artillery, multiple rocket launchers, and air defense systems. The provision of this equipment has had tragic consequences, particularly for innocent civilians. This support has continued unabated, and indeed additional heavy equipment has recently departed from a separatist training facility in southwestern Russia.
Canada finds this unacceptable. President Putin's actions raise serious questions about Russia's credibility and its role in negotiating a peaceful resolution with Ukraine.
Russia must immediately cease its aggressive acts against Ukraine, respect Ukraine's sovereignty and territorial integrity, withdraw its forces, and end the flow of arms, including anti-aircraft systems across the border. The peaceful resolution of disputes and the inviolability of international borders lie at the heart of our international order. There will be repercussions for Russia's blatant acts of aggression and decision to disregard these basic tenants. Canada stands ready with its international partners to take further measures to isolate the Putin regime.
High Commissioner Ayre:
Thank you, High Commissioner Giles. Echoing on the High Commissioner's concerns, we are extremely uneasy about mounting evidence that Russian troops have made large-scale incursions into South Eastern Ukraine, completely disregarding the sovereignty of a neighbor. We are encouraged by President Poroshenko's statement that he continues his efforts to find a peaceful resolution to the conflict created by Russia and that the Government of Ukraine may be able to implement steps to facilitate a peace plan as early as possible.
President Putin has said that Russia is willing to find a peaceful solution to the conflict but this is not credible when Russia is supporting pro-Russian separatists in Ukraine with arms and troops; when it has illegally annexed Crimea, and when its actions have led to the deaths of more than 2500 Ukrainian citizens. It is simply not enough to engage in talks in Minsk, while Russian tanks continue to roll over the border into Ukraine. Such activity must cease immediately.
We urge Russia to pursue a different path and to find a political solution to this crisis. If Russia does not, then she should be in no doubt that there will be further consequences. However, this is not our preference. We strongly support a peaceful resolution to the crisis in Ukraine and hope that any high-level talks between the two leaders are productive.
The European Union has also taken action on this issue - it has implemented a series of sanctions which include restrictive measures in the financial and defence sectors, and visa bans and asset freezes for individuals within - or close to - the Russian Government. These sanctions constitute a strong signal to the leaders of Russia: destabilising Ukraine, or any other European neighbouring state, will bring costs to their economy. The measures are intended to dissuade from further actions against Ukraine's interests and to help bring about a sustainable political solution. The EU stands ready to facilitate such a solution and supports all multilateral initiatives towards that aim.
Chargé d'Affaires Hunt:
We see Russia's actions for what they are: a deliberate effort to support, and now fight alongside, illegal separatists in another sovereign country. But let's be clear: if unchecked, the damage that Russia's blatant disregard for the international order poses is much, much greater. These rules and principles that have taken generations to build, with unparalleled investment – countless lives have been lost to establish and defend these principles. And every single one of us has a stake in defending them. A threat to the order – the international order – is a threat to all of our peace and security.
The separatist fighters battling Ukrainian forces are trained by Russia. They are armed by Russia. They are funded by Russia. Many of them are Russian citizens. Russian forces that have moved into Ukraine are not on a "humanitarian" or "peacekeeping" mission. They are Russian combat forces with Russian weapons and Russian tanks. It is clear this is not a homegrown, indigenous uprising.
The fact that Kremlin officials continue to deny that Russian troops and equipment are inside Ukraine in the face of multiple eyewitness accounts, satellite imagery, and the deaths of Russian soldiers defies comprehension and does a great disservice to their own people who deserve to know the truth.
We will not accept Russia's occupation and illegal "annexation" of Crimea or any part of Ukraine. Borders cannot be redrawn at the barrel of a gun.
We urge Russia to engage meaningfully on President Poroshenko's peace plan by stopping its military aggression in Ukraine, withdrawing all military forces and equipment from Ukraine and away from its border, and ending support for the separatist forces in eastern Ukraine. Russia must respect Ukraine's sovereignty and territorial integrity.
The NATO alliance met last week with President Poroshenko to show that its 28 nations are united in support of Ukraine's territorial integrity and sovereignty. We must continue to stand united against Russia's aggression in Ukraine. Thank you all for listening. We will now take questions.
Published 22 October 2014