World news story
Joint statement by Foreign Secretary Philip Hammond and Bulgarian Minister of Foreign Affairs Daniel Mitov
Shared concerns and commitments made during the visit of the Foreign Secretary to Bulgaria 14 January 2015.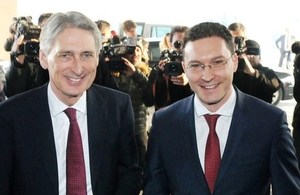 The Foreign Secretary Philip Hammond and Foreign Minister Daniel Mitov made the following joint statement:
Today we reaffirmed our commitment to deepen the cooperation between Bulgaria and the UK and to further develop our bilateral relations. Allies and partners in the EU and NATO, our countries share common values and a range of common interests. This is the backbone of our relationship in today's complex international environment.
We exchanged views on the escalation of terrorism and the need to deepen our bilateral coordination to fight all its forms, including those coming from ISIL and other extremist organisations that recruit foreign fighters. We condemn the terrorist attacks in Paris and express our full solidarity with the French people at this time.
Bulgaria and the UK will continue to work together and with all Allies to implement the Wales NATO Summit commitments, in particular the Readiness Action Plan, in order for the Alliance to be fully prepared and ready to tackle 21st century security threats.
We also discussed the situation in Ukraine, the challenges and opportunities facing South-Eastern Europe, developments in the Middle East and North Africa. We confirmed our enhanced cooperation in the context of the situation in the wider Black Sea region. We underlined our commitment to the stability and independence of Ukraine. The EU should continue to support the reforms in the countries of the Eastern Partnership and the implementation of the Association Agreements/Deep and Comprehensive Free Trade Areas with Ukraine, Moldova and Georgia.
We will continue our intensive dialogue and cooperation on the security and diversification of energy supplies in South-Eastern Europe and within the European Union.
We reiterate our strong support for EU enlargement on the basis of firm and fair conditionality. We encourage the countries of the region to carry out the necessary reforms that will ensure functioning state institutions, democracy, rule of law and respect for human rights, including minorities.
We discussed the important issues facing the EU and its Member States: the urgent need to complete Single markets in services (including financial services), digital and energy; applying proper measures for reducing the regulatory and administrative burden for businesses, especially medium and small enterprises; and increasing the level of investments, as well as signing ambitious free trade agreements, including TTIP. We discussed the issue of democratic accountability in the EU and exchanged ideas on mechanisms to reinforce the voice of the electorate.
We highlighted that as partners in the EU our countries cooperate to achieve the highest standards in justice. The Strategy on the Reform of the judiciary, adopted by the Bulgarian government, is an important step to achieving an efficient judiciary that functions in the interest of its people.
We hope that with the creation of the new British-Bulgarian Business Association our trade relations will deepen trade and investment between both countries will increase.
Published 14 January 2015