World news story
Joint Statement at the Second Session of the 2015 NPT Review Conference
Joint Statement on the Middle East WMD Free Zone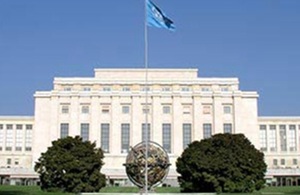 Statement, on behalf of the Russian Federation, the United Kingdom of Great Britain and Northern Ireland, and the United States of America, at the second session of the 2015 NPT Review Conference
Geneva, 2013
Begins
In conformity with the 2010 decision, the co-convenors have worked closely with the Conference Facilitator, Jaakko Laajava, and we fully endorse the Facilitator's efforts to build consensus amongst all the states of the Middle East region on next steps.
We fully support the Facilitator's preparations for the Helsinki Conference and endorse the tireless and creative engagement undertaken by the Facilitator with states in the Middle East. The Facilitator has conducted close to 200 consultations with the states of the region since his appointment. We give our full support for the continuation and further intensification of the Facilitator's efforts in order that all relevant parties can be brought together for a constructive dialogue that advances the objective of the Middle East zone.
We stand ready to continue the closest cooperation with the Facilitator.
Ends
Published 30 April 2013