News story
Joint Exchequer Committee
The Joint Exchequer Committee met yesterday in Edinburgh with representatives from the UK and Scottish Government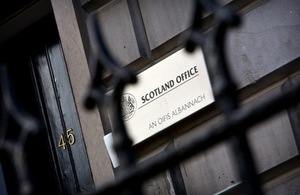 Chaired by the Exchequer Secretary, David Gauke MP, the UK Government was also represented by the Secretary of State for Scotland, Michael Moore MP. The Scottish Government was represented by Nicola Sturgeon MSP, Deputy First Minister and Cabinet Secretary for Infrastructure, Investment and Cities and John Swinney MSP, Cabinet Secretary for Finance, Employment and Sustainable Growth.
This was the third meeting of the JEC and the second since the Scotland Act 2012 received Royal Assent. The Committee focused discussion on implementation of the financial provisions of the Act and noted that substantial progress has been made by both the Scottish and UK Governments to prepare for the successful delivery of these new functions. Ministers noted that officials from the two governments had been working together to develop plans for implementation, and that further detailed planning was continuing.
The Ministers considered the high-level milestones for implementation and discussed a range of issues including preparations for Scottish rate of income tax and arrangements for borrowing by the Scottish Government. They also agreed the importance of ensuring appropriate accountability as part of these arrangements.
The next meeting of the JEC will take place before the end of 2013, in London, chaired by the Cabinet Secretary for Finance, Employment and Sustainable Growth.
Published 15 February 2013