Press release
John Whitehead OBE appointed interim chair of Seafish
The Government has today announced the appointment of John Whitehead OBE as interim Chair of Seafish.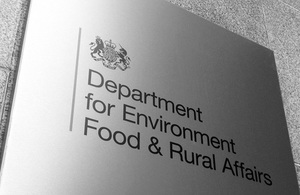 Mr Whitehead is currently the Deputy Chairman of the Seafish board. He will take on a new, more hands on role as interim Chair to lead Seafish through the planned Supreme Court appeal against a previous ruling on the legality of raising levy on imported fish and fish products.
Mr Whitehead replaces Charles Howeson who has played a major role in guiding Seafish through the current legal challenge facing the organisation and has given his time and expertise to enable Seafish to adapt to the changing circumstances it faces.
Mr Howeson currently has a number of other important public service roles which also call heavily on his time. He has reluctantly decided that having laid the groundwork for Seafish's legal response he is not in a position to extend his service without detriment to his other public duties.
The Government has accepted Mr Howeson's decision with regret but fully respects his reasons, and is extremely grateful for the service he has given both to Seafish and the wider seafood industry over the last three challenging years.
Government is continuing to provide every support to Seafish during this critical period and warmly welcomes John Whitehead's agreement to accept the interim Chairmanship of the Seafish Board.
Notes
John Whitehead OBE biography
John Whitehead currently Deputy Chair of Seafish, has spent all his working life in the food industry, latterly as the Managing Director of Top Hat Holdings Limited, Dundee based producers of convenience food for many of the major multiple retailers and food service chains.
He has considerable experience in public sector organisations having previously served as a Commissioner of the Meat and Livestock Commission and a Member of the Council of Food from Britain.
He is Chairman of the Certification Council of Scottish Food Quality Certification Ltd and Senior Independent Director of Improve, the Sector Skills Council for the food and drink industry. He serves as a non executive Director with Strathmore Foods Ltd and Glycomar Ltd.
In 2004 he was awarded an OBE for services to the agri food industry.
Educated at Keswick School and the Royal Agricultural College, he was admitted as a Fellow of the Institute of Horticulture in 1986.
Published 8 June 2010