News story
John Hayes confirms bursaries funding for trainee Further Education teachers
For 2012 - 13, bursaries of £1,000 will be introduced to enable up to 10,000 trainees to take either the Higher Education Institution (HEI)-…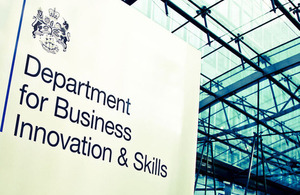 For 2012 - 13, bursaries of £1,000 will be introduced to enable up to 10,000 trainees to take either the Higher Education Institution (HEI)-accredited Diploma in Teaching in the Lifelong Learning Sector (DTLLS), or a level 6 PGCE qualification. In addition, bursaries of £1,500 will be introduced to enable up to 1,000 trainees who are taking HEI-accredited ITE courses and who are intending to teach basic Maths and English in the sector.
John Hayes, Skills Minister said;
"It is a powerful demonstration of the Government's wholehearted commitment to the FE and Skills sector that despite the current financial pressures and in challenging times, we are looking to secure the talents and skills of potential FE teachers.
"Recruiting the best talent is central to making the sector as good as it can be. Further Education is at the heart of economic revival; at the core of social renewal."
Notes to editors:
---
In December 2011 the Government outlined in 'New Challenges, New Chances' its commitment to ensuring excellence in teaching and learning; http://www.bis.gov.uk/assets/biscore/further-education-skills/docs/f/11-1380-further-education-skills-system-reform-plan

BIS's online newsroom contains the latest press notices, speeches, as well as video and images for download. It also features an up to date list of BIS press office contacts. See http://www.bis.gov.uk/newsroom for more information.
Notes to Editors
Contact Information
Name BIS Press Office Job Title
Division COI Phone
Fax
Mobile
Email NDS.BIS@coi.gsi.gov.uk
Name Victoria Heath Job Title Ms Division Department for Business, Innovation & Skills Phone 020 7215 5950 Fax
Mobile
Published 23 February 2012