Press release
John Cridland CBE launches consultation on the State Pension age
A consultation has been launched today seeking the public and representative bodies' views on the State Pension system of the future.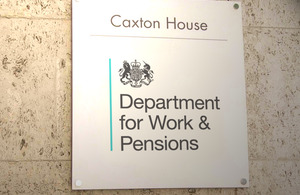 John Cridland CBE, the State Pension age independent reviewer, has called on the public and representative bodies to have their say as he publishes an interim report on ensuring the State Pension age remains affordable and fair for all beyond 2028.
Mr Cridland was appointed as the government's independent reviewer of State Pension age in March and will deliver his final recommendations next year.
John Cridland said:
The future of the State Pension age is a hugely important issue for this country. It must be fair and sustainable, and reflect changes in society. My interim report provides an insight into my developing thinking and poses a number of questions.

Whatever recommendations I decide to make in my final report, they will be underpinned by the importance of effective communications about the State Pension age. People need to be able to plan effectively for their own retirement.

The review continues to gather evidence to inform its recommendations and the views of the public will form a key part of that data. I want to encourage as many people as possible to respond to the consultation and really hope to stimulate wider discussion.
The consultation looks at the key drivers of State Pension age like life expectancy, including in the different nations and regions and for different occupational groups. It also asks about the challenges faced by those who rely most on the State Pension and are therefore most likely to be affected by any future changes. These groups include carers, people with poor health or disability in later life, the self-employed, women and ethnic minorities. One in 10 adults already have some caring responsibilities and this will increase. Generation X, born in the later 1960s and 1970s, are most likely to need to take account of any changes to the State Pension age in their retirement planning.
The report puts forward the view that there is value, in a clear point in time, when the state will offer retirement income. It also opens a discussion on alternatives to a universal State Pension age, recognising that the nature of work and retirement is changing, as people move from the old model of a fixed retirement age and a defined period of retirement to a more flexible approach where they may work part-time or change career in later life.
And it considers options such as supporting individuals to work longer and more direct interventions, such as early access after a long working life to either a full or a reduced pension.
In his interim report, Mr Cridland considers different options for what retirement might look like beyond 2028, taking into account changes in life expectancy and wider changes in society. Life expectancy for men born in 2016 is 90.6 years and for women 93.5 years and healthy life expectancy, whilst a significant issue, appears to be keeping track with rises in overall life expectancy.
In particular, the report looks at:
affordability: the ratio of pensioners to working age people and spending on pensions as a proportion of GDP, as well as the role the triple lock has as an uprating policy commitment
fairness: whether outcomes are fair between and within different generations of pensioners, for instance men in routine jobs have 6 years difference in life expectancy at birth to men in professional jobs
Fuller Working Lives: understanding why people drop out of the labour market early and how government and industry might mitigate this. 1.2 million people work over the age of 65 but a significant proportion of people also drop out of the labour market early due to ill health and other factors
The consultation starts today and will run until the 31 December 2016.
Contact Press Office
Media enquiries for this press release – 0203 267 5144
Press Office
Caxton House
Tothill Street
London
SW1H 9NA
London Press Office (national media and London area enquiries only – not questions about personal claims) 020 3267 5144
Out-of-hours (journalists only) 07623 928 975
England and Wales (local media enquiries) 029 20 586 then 097 or 098 or 099
Scotland (local media enquiries) 0131 310 1122
Follow DWP on:
Published 13 October 2016