Press release
John Cridland CBE appointed to lead the UK's first State Pension age review
The review is to consider changes in life expectancy, wider changes in society and help ensure the State Pension remains sustainable.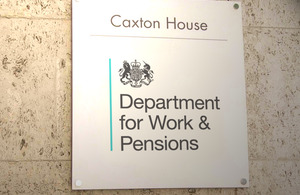 John Cridland CBE has been appointed as independent reviewer of State Pension age, Minister for Pensions Ros Altmann announced today.
The 2014 Pensions Act requires the State Pension age to be reviewed during each Parliament. The review is to consider changes in life expectancy, wider changes in society and to help ensure that the State Pension remains sustainable for generations to come.
John Cridland will report to the Secretary of State for Work and Pensions in time to allow government to consider the recommendations by May 2017. The review will be forward looking and focussed on the longer term. It will not cover the existing State Pension age timetable to April 2028.
The independent review is responsible for gathering evidence on State Pension age and will consider a broad range of factors before making its recommendations. It will consider a wide range of evidence and analysis. including whether the current system of a universal State Pension age rising in line with life expectancy is optimal in the long run.
John Cridland was most recently Director General of the Confederation of British Industry (CBI). He is currently Chair of the Board of Transport for the North. He has previously helped to negotiate the UK's first national minimum wage, spent 10 years on the Low Pay Commission and he was also a member of the Advisory, Conciliation and Arbitration Service (ACAS).
Minister for Pensions, Baroness Ros Altmann said:
I am really pleased to announce that John Cridland has accepted the appointment to review the State Pension age.

He has made an impressive contribution to both government policy and business throughout his career and is well placed to report on this issue. I am confident that he will produce a thorough, carefully considered, wide-ranging review of this issue which affects the lives of millions of people.

As our society changes it is only right that we continue to review State Pension ages and take into account the relevant factors to make sure that the State Pension is sustainable and affordable for future generations.
John Cridland CBE said:
I am delighted to be the first independent reviewer of State Pension age.

I look forward to meeting many stakeholders, hearing the views of experts and the experience of organisations working in this area to help shape the review. I know how important this issue is, and will consider all the evidence to ensure that we have a State Pension age fit for the future.
Individuals, charities, businesses, research groups and all other interested stakeholders are invited to share their views on the State Pension age review by emailing: spa.review@dwp.gsi.gov.uk
More information
This is a non-remunerated post.
Read the terms of reference.
Parliament legislated in the Pensions Act 2014 for a review of State Pension age to be conducted at least once every 6 years. This will be the first of these reviews.
Contact Press Office
Media enquiries for this press release – 0203 267 5116
Press Office
Caxton House
Tothill Street
London
SW1H 9NA
London Press Office (national media and London area enquiries only – not questions about personal claims) 020 3267 5144
Out-of-hours (journalists only) 07623 928 975
England and Wales (local media enquiries) 029 20 586 then 097 or 098 or 099
Scotland (local media enquiries) 0131 310 1122
Follow DWP on:
Published 1 March 2016