World news story
John Casson: "The January Revolution and the Third Way"
British Ambassador John Casson writes today in Al-Masry Al-Youm that the lessons of 2011 remain sources of hope in 2015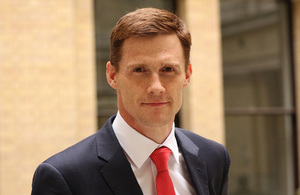 Everyone in Egypt can remember where they were on 25 January 2011 and in the tumultuous days that followed.
The whole world held its breath to see what Egyptians could do. I was in London, working for Prime Minister David Cameron. On the evening of 11 February I was with him when he spoke to the press in front of the door 10 Downing Street minutes after President Mubarak resigned.
What was clear that night was that the Egyptian people wanted something better than chaos, religious extremism or autocracy. I still remember the words David Cameron said:
Egypt now has a really precious moment of opportunity.
Four years on, I am living in Cairo, in earshot of Tahrir Square. It was that precious opportunity that brought me here. I believe passionately that what happens in Egypt is vitally important not just to 90 million Egyptians but to the whole region and to the world. In fact it is now more urgent than ever that Egypt leads the way to more stability, prosperity and democracy in this region.
Every Egyptian I talk to has a point of view about the January revolution: what it was for, what it achieved, what was lost. Everyone knows how much has changed since. Some of the most prominent young leaders are still in prison, others have lost their lives. But three vital things are as true today as they were four years ago.
First, Egyptians together should decide Egypt's future, and only Egyptians can. No foreigner or expert or organisation can take that task away from the Egyptian people. We have seen too many failed attempts to impose the will of outsiders on this region. Countries succeed when Governments have the consent and support of their own people, and when institutions protect the rights of all citizens and are answerable to them. The duty of the rest of us as friends of Egypt is to help Egyptian people and Egyptian institutions achieve this.
Second, we have seen the danger of excluding people economically and politically. We saw in 2011 what happens when there is economic growth for a few, but millions despair of finding the job they want, the schools and hospitals they need, the income for a decent family life. We saw in 2013 what happens when millions of people feel politically alienated. Bread, freedom and social justice are not just nice dreams. They are essential to lasting stability and prosperity. The duty for the international community is to support opportunities for all Egyptians, through investment, reform and partnership.
Third, the world needs Egypt to find a third way between extremism and authoritarianism. The word democracy is much abused. If it is just about elections, or imposing a western model it will fail. But the deep roots of democracy grown over the long-term will be the secret of Egypt's future stability and prosperity. Open debate and accountability ensure competent Government. Institutions that protect the rule of law and the rights of all citizens allow economic growth and undercut extremism. Government that silences people instead of listening leads to instability and corruption. The duty of friends of Egypt is not to insist on Egypt becoming like us, but to help the deep democratic roots grow in Egyptian soil.
Many people will write in the press today that the Arab Spring is dead. I disagree. Four years ago Egyptians lifted their voices to demand a better future, and taught us these lessons we must not forget. The lessons of 2011 remain sources of hope amid the formidable challenges this region faces in 2015. The duty for Egyptians and non-Egyptians alike is to keep working to make the hope.
Link to the article published today in Al-Masry Al-Youm (in Arabic):
Published 26 January 2015