World news story
Job vacancy: Trade advisor, UKTI Naples
The UK Trade & Investment team in Italy is looking to recruit a Trade Adviser for its team in Naples.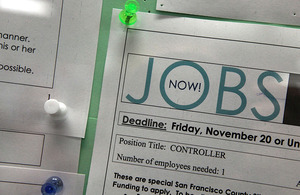 The Trade Adviser will work on a number of key sectors with a primary focus on Aerospace and Marine industries, nationwide, and also across all sectors in Italy. The location for this job will shared between Naples and Rome. The successful candidate should ideally be able to start on June 3rd.
The successful candidate will report to the Head Aerospace & Marine Section and Multisectorial Activities and assist with implementation of UKTI development strategy.
Duties and Responsibilities
The main duties of the job are:
to support the Naples Trade Officer (80%) and Rome Prosperity Officer (20%);

to be the point of contact for enquiries from the UK;

to use all available sources to research market and sector information on behalf of UK companies;

to contact UK and Italian companies by e-mail and phone;

to write sector specific reports for UK companies, obtaining and collating information;

to organise seminars and other events and to visit trade fairs, exhibitions and companies, writing visit reports;

to keep close collaboration with other British trade organisations;

to be able to understand and prioritise UKTI and Foreign & Commonwealth Office objectives and strategies
Key Skills
The key skills required for this job include:
Specific experience of Marine & Aerospace sectors;

Ability to deal with Italian and UK authorities within the trade sector.

Experience in dealing with international trade organisations and associations (i.e. Chambers of Commerce, Confindustria)

Excellent self-organisation and attention to detail.

Excellent knowledge of IT systems and software.

Proven experience of team working.

Attention to customer care and ability to prioritise workloads and meeting tight deadlines.

Fluency in both written and spoken English and Italian.
Terms and Conditions
The position is at LEIII level in a range from I to V, I being the highest.

The monthly gross salary starting from Euro 1,913.11. The salary is paid monthly 14 times per year including €10.33 EDR paid 13 times per year.

Working hours are 35 per week Monday to Friday 09:00 – 17:00. Some degree of flexibility is expected.

The successful applicant will be expected to travel from time to time in connection with the job.

Confirmation of appointment is subject to security clearance and a probationary period of three months.

Income tax arrangements will depend on nationality.

The successful candidate will be enrolled in the Italian State Social Security scheme.
Applications
Applications (in English for native Italian speakers, in Italian for native English speakers) should be sent by 13 May 2013 to the following email address ItalyJobAds@fco.gov.uk. Please note that it is essential to quote "LEIII Trade Adviser UKTI" and your surname in the subject line. The application should include a covering letter and an up-to-date CV.

Applications received beyond this date will not be considered and acknowledgements will be sent to short-listed candidates only.

Interviews will be held in Naples during the week beginning 27 May. Candidates may be asked to take a written test as part of the interview and/or a test of computer skills.
The FCO and its Embassies overseas is an equal opportunities employer and welcomes applications from all suitably qualified people regardless of gender, marital status, race, disability, age or sexual orientation.
HR Office Rome
Published 6 May 2013