World news story
Job vacancy: Deputy Consul General/Deputy Director for UKTI Milan
The above permanent vacancy has arisen in the British Consulate General Milan to start in December 2013.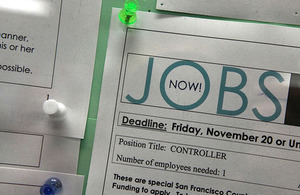 This is a high profile and demanding role, which involves supporting the Consul General in leading a Consulate team consisting of thirty seven staff.
The successful candidate should have a solid commercial background, with a strong leadership track record, and the ability to make decisions and use initiative. He or she will be required to have a good understanding of UK government. Excellent spoken English and Italian is essential.
Description of job, duties and responsibilities
As Deputy Director for UKTI in Italy, responsible for:
Marketing and Communications
To supervise the communications and marketing team and implement and develop the UKTI marketing strategy for Italy with a view to raising the profile of the UK as a trade partner and a location for investment; raising the profile of key UK sectors in Italy and UKTI as an organisation. To raise the profile of Italy with UK multipliers including regions and developed administrations.
Trade teams
To work with and support events and activities run by the various trade teams. Manage the performance of the trade team towards target, chairing a monthly meeting and keeping the display board measurement system up to date.
Financial Services
To develop and implement a strategy to promote the UK financial services sector and to identify possible business opportunities for UK companies in the Italian market.
As DHM/Change Manager:
To deputize for the Consul General as and when required. To deliver corporate services and other change programmes. To maintain overview of Post and Consular Emergency Plans. To line manage and supervise the corporate services team. Deputy Post Security Officer.
In co-ordination with the Consul-General:
To help maintain and develop working level contacts with key institutions, particularly with the Mayor's office, Milan Comune, Regione Lombardia. Deputise for the Consul General as required. Support the British Chamber of Commerce in Italy. To coordinate UKTI and non-UKTI aspects of:
HVO Programme
Business opportunities
Low carbon and climate change programmes
Expo 2015
UK regional activities within Italy
To supervise and coordinate programmes for high level visits, including Ambassadorial visits. Ad hoc political and economic reporting based on the above and in line with requirement from Rome.
Staff management
The DCG/Deputy Director for UKTI is responsible for managing 2xC4(L), 1xB3(L) and 2XA2(L) staff. He/she will need to ensure that staff are managed according to best practice enabling them to carry out their duties effectively and efficiently.
Key competences and experience
The successful candidate should be able to demonstrate competencies and knowledge as follows:
Delivering results Problem solving and judgement Managing wider relationships Working with others UKTI and FCO experience Budget analysis, profiling and co-ordination Good IT skills (Excel, Word, CDMS, Outlook) Italian/English (spoken and written)
The British Consulate General in Milan is the UKTI hub for Italy and the majority of the thirty seven staff are involved in UKTI work. The team is successful and has a reputation for being creative and original in its approach to both trade and investment programmes. The DCG post involves a significant degree of responsibility for developing and implementing key aspects of the UKTI strategy for Italy in marketing, communications and financial services. It is an active commercial job.
The British Consulate General is also an important part of the FCO network in Italy and the DCG's role is vital in coordinating UKTI and FCO programmes and managing the crossover between the two in key areas such as low carbon/climate change. Other areas which are key to UKTI activity such as Expo 2015 and initiatives within Italy run by UK regions which involve several UKTI teams as well as having clear non-trade and investment strands of activity and the two require active coordination. As resources become ever-tighter, this coordination activity needs to be dovetailed with the FCO's various change programmes, for which the DCG is responsible. The coordination role also extends to high-level visits such as UK dignitaries and politicians.
Holding these different strings and making sure that the demands of different teams are taken into account makes this a challenging and demanding role. The successful candidate will need to show leadership, take initiatives and make decisions. He or she will require confidence, originality, an ability to manage staff and an understanding of the working of the UK government machine.
The FCO's shared services regime means that corporate services support work is led from, and mainly carried out in Rome. However, there is still a small corporate services team which the DCG leads and directs, liaising closely with corporate services team leaders in Rome.
Supervision of security provision for the Consulate office and staff is an important part (the post has Italian military guards). The DCG is Deputy Post Security Officer, the role includes responsibility for maintaining an overview of Post Contingency Plan and Consular Emergency plans.
Whilst the representational side of the job is limited, the role does involve deputising for the Consul General and as such, some out of hours work and the occasional speech is required.
Terms and Condition of employment
The position is at grade C5(L) which is the eighth grade on a nine grade scale of grade for locally engaged staff in Italy. The annual gross starting salary at this grade is €45,857.
Salary is paid monthly with second salary payments in December and June, giving 14 salary payments per year including €10.33 EDR is paid 13 times per year. Working hours are 35 per week, Monday to Friday 09:00 — 17:00. Some degree of flexibility is expected. The job is based in Milan, with occasional travel across Europe. Confirmation of appointment is subject to security clearance and a probationary period of six months. Income tax arrangements will depend on nationality, income tax (IRPEF) at rates set by the Italian government is withheld from gross salary. The successful candidate will be enrolled in the Italian State Social Security scheme (INPS). Terminal Gratuity Payments (TFR) are made in line with the relevant Italian legislation. Staff recruited locally by the British Consulate General in Milan are subject to terms and conditions of service which are drawn up in line with Italian employment law. Applications Applications should include: a covering letter, in English and Italian, explaining the interest in the job and the quality the candidate will bring; an up-to-date CV; a one page A4 not to be exceeded describing how you would grow Trade & Investment between Italy and the UK. Applications should be sent by email to the following address ItalvJobAds@fco.gov.uk. Please note that it is essential to quote "DCG Milan" and your surname in the subject line. The closing date for applications is 18 November. Applications received beyond this date will not be considered.
Interviews will be held in Milan in week commencing 25 November. The FCO and its Embassies overseas is an equal opportunities employer and welcomes applications from all suitably qualified people regardless of gender, marital status, race, disability, age or sexual orientation.
Human Resources Office British Embassy, Rome
Published 5 November 2013