World news story
Job Opportunity: Science and Innovation Project Officer
From:

Part of:

Published:

18 May 2015

Last updated:

19 May 2015, see all updates
The British Embassy in Montevideo is looking for a Science and Innovation Project Officer.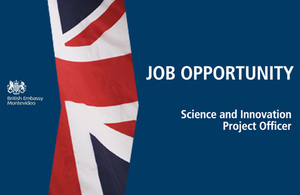 Main purpose of job:
To identify opportunities for UK/UY scientific cooperation and to implement supporting projects.
Job Responsibilities:
Development and oversight of Science and Innovation technical assistance projects, aligned with the Embassy's Country Business Plan and Uruguay's Science and Innovation priority areas.

To manage embassy cooperation funds for the development of a portfolio of science and innovation projects.

To monitor and report to Foreign and Commonwealth Officer (FCO) on project spending.
You will be involved in the following key activities:
PROSPERITY/COMMERCIAL/PROJECT
To identify and to develop technical assistance projects with stakeholders on both sides that showcases the UK's strengths in science and innovation to Uruguayan research institutions, investors and companies.

To define the key commercial and capacity building opportunities for the UK market on science and innovation in Uruguay.
COMMUNICATING AND INFLUENCING
Assist on public and media engagement for all of the Embassy's S&I work.

To help develop Embassy's network on science and innovation across the country and to showcase the UK offer and expertise on science and innovation.
VISITS/ ADMIN
Management of the Embassy Science and Innovation budget.

To lead on all inward and outward visits related to the programme.
Required Experience and Skills:
Essential on arrival:
Bachelor's Degree (or equivalent)

At least 3-5 years of experience of developing and promoting Uruguay's science and innovation capabilities including commercially-focused work.

Experience of working on science and innovation

Experience in Project Management.

Highly motivated, enthusiastic and prepared to go one step further to deliver results.

Strong communicator, with excellent impact both in English and Spanish.

Effective team member.

Excellent customer service

Well organised, in order to meet deadlines and keep good records.
Desirable:
Strong understanding of the innovation policies in Uruguay.

Strong understanding of the UK's and Uruguay's commercial strengths in science and innovation

Media/public outreach experience

A strong network of key Uruguayan (and ideally UK) science and innovation stakeholders
Key UK Civil Service Competencies for this role: Collaborating and Partnering, Making Effective Decisions, Seeing the Big Picture and Engaging Internationally.
Terms and Conditions:
The British Embassy in Montevideo offers an attractive working environment and a monthly remuneration package for this role within a fixed-term contract until the 31st of March 2016. Working hours: Monday – Thursday from 09:00 to 13:00 hrs and from 14:00 to 17:30 hrs, Fridays from 09:00 to 14:00 hrs. January: Monday to Friday: 08:30 – 14:30 hrs. The role is likely to require some overseas travel.
How to apply:
Applications in English should be submitted in the form of a covering letter (max. 1 page) setting out why you want the job and what value you would bring, together with a CV (max. 2 pages) and two references, sent by email to Recruitment2.americasregionalhub@fco.gov.uk addressed to Human Resources Officer, always indicate the reference code of your role applying to in the subject field formatted as SIPO-UR.
Applications must be received by Wednesday 27th of May 2015. At this point no information, in addition to the job description, will be provided, either by phone or email. CVs in Spanish or without a covering letter will not be accepted. No application will be accepted after the deadline. Feedback will be provided to shortlisted candidates only. Candidates must be legally entitled to work in Montevideo. The British Embassy is an equal opportunities employer, dedicated to inclusivity, a diverse workforce and valuing difference. Staff recruited locally by the British Embassy in Montevideo are subject to Terms and Conditions of Service according to local employment law.
Document information
Published: 18 May 2015
Updated: 19 May 2015
Image was changed to comply with format specifications
First published.