World news story
Job Opportunity: Expo Prado 2015 Pavilion Officer
The British Embassy in Montevideo is looking for a Pavilion Officer for the upcoming stand at Expo Prado 2015.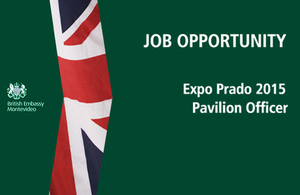 To ensure a successful, high impact British Pavilion at Expo Prado. This role covers both the preparation and implementation phases, as the show takes place from 9-20 September 2015.
Job Description:
Customer focus
Develop effective relationships with stakeholders to understand needs and objectives

Coordinating pavilion activities and events

Assist embassy staff with overseas visitors and pavilion meeting area coordination

Be the friendly face of the pavilion for guests and the general public
Problem solving & resilience
Act as main contact with implementers: deal with enquiries and ensure they fulfil contract specifications

Liaise with pavilion partners/ and sponsors and assist with any extra requirements they may have
Resource management:
Prepare stewards' roster and resolve roster issues

Liaise with on-site handyman to resolve any faults/issues immediately

Maintain contact with implementers to ensure forecast, profiling and payment processes are completed accurately, in coordination with Project Officer at Embassy

Check implementers' original invoices against reported spend and process payments throughout the projects.

Maintain spreadsheets detailing the spend on projects and produce financial reports as required.
Required Experience and Skills:
Essential on arrival: organised, methodical, proactive, problem solver, personable, willing to go the extra mile, anglophile, effective team member. Ensure excellent communication with management, other Embassy teams and implementers both in English and Spanish. Understand the FCO competencies to ensure that these are understood, met and exceeded.
Desirable: Good knowledge of the UK.
Key UK Civil Service Competencies for this role: Delivering a Quality Service, Changing and Improving, Delivering at Pace, Collaborating and Partnering, Demonstrating Resilience and Making Effective Decisions.
Terms and Conditions:
The British Embassy in Montevideo offers an attractive working environment and a monthly remuneration package for this role. Leading up to and after the trade fair working at the British Embassy from 09.00-13.00 and 14.00-17.30. During the Expo Prado 9-20 September 8 hour days with flexible start times between 09.00 and 21.00. This is a 3 month fixed-term contract.
How to apply:
Applications in English should be submitted in the form of a covering letter (max. 1 page) setting out why you want the job and what value you would bring, together with a CV (max. 2 pages) and two references, sent by email to Recruitment2.americasregionalhub@fco.gov.uk addressed to Human Resources Officer, always indicate the reference code of your role applying to in the subject field formatted as EPPO-UR.
Applications must be received by Sunday 31st May 2015. At this point no information, in addition to the job description, will be provided, either by phone or email. CVs in Spanish or without a covering letter will not be accepted. No application will be accepted after the deadline. Feedback will be provided to shortlisted candidates only. Candidates shall be legally entitled to work in Montevideo.
The British Embassy is an equal opportunities employer, dedicated to inclusivity, a diverse workforce and valuing difference. Staff recruited locally by the British Embassy in Montevideo are subject to Terms and Conditions of Service according to local employment law
Published 19 May 2015