World news story
Job opportunity at the British Embassy Buenos Aires - Economist
This was published under the 2010 to 2015 Conservative and Liberal Democrat coalition government
The British Embassy in Buenos Aires is seeking a highly motivated individual to work in its Prosperity Team as an Economist.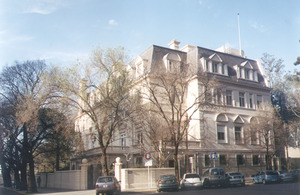 Job description - Economist
The British Embassy in Buenos Aires is seeking a highly motivated individual to work in its Prosperity Team as an Economist. The Prosperity Team is responsible for the UK Government's economic, trade and investment interests in Argentina. We work with a broad range of Argentine stakeholders to provide analysis for the UK government on the Argentine economy and to further UK-Argentina trade and investment links.
The Job
Working to the head of the Prosperity Team, the successful candidate will be responsible for researching, analysing and reporting on the Argentine economy and economic policies for UK government departments.
Duties and Responsibilities
The main duties are to:
• Provide reports in English on the Argentine economy, and economic policy and financial issues. This will include producing monthly economic reports as well as reporting on significant developments;
• Developing and maintaining relationships with local private sector and government officials as well as with a broad range of UK contacts. This will include briefings and involvement in visit planning.
• Work with Prosperity Team colleagues to identify economic trends in commercial sectors that could lead to opportunities for the UK.
• Conduct occasional presentations, readily accessible to non-technical audiences.
• Promote the UK's economic reputation and developments, working with the Communications Team
Desired Skills and Experience
Your Profile
The successful candidate will:
• Be fluent in Spanish and have strong English language skills. Be able to deal effectively with economic and financial contacts in either language and to write reports clearly in English.
• Have a degree in economics or a related discipline.
• Experience in the analysis of Argentine economic statistics or in economic policy evaluation would be an advantage.
• Be able to build their own network of contacts in Argentina among government officials, academics and private-sector analysts working on economic and financial issues. An existing broad range of contacts across the economic sector in Argentina would be an advantage.
• Be a flexible team player, happy to help out with all aspects of the team's work.
Start Date
The successful candidate should be able to start as soon as possible. Salary will be dependent on qualifications and experience. Salary range can be provided on application.
Terms and Conditions
The job is being offered on full time permanent contract. The starting salary will be based on experience / qualifications. The successful candidate will be entitled to 25 working days leave a year and 14 days public holidays (a mixture of British and Argentine public holidays). Proposals for flexible working will be considered. Working hours: Monday-Thursday 9 to 17.30hs (with one hour break for lunch) and Fridays 9 to 14hs.
How to Apply
A covering letter and CV in English should be sent to perfiles@ebmconsultores.com.ar 'REF: Economist' before 6 April.
Applications will not be returned and we regret that due to the large volume of expected applications, only those selected for interview will be contacted.