News story
Job-boosting fund for 20 seaside towns
Seaside towns to get a £16 million cash boost for projects from the Coastal Communities Fund.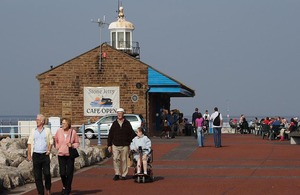 Seaside towns around the country are receiving a big cash boost for projects that will create thousands of jobs and bring new business opportunities to coastal communities, Communities Secretary Eric Pickles announced today (11 February 2013).
Twenty seaside projects in England will receive grants of up to £2.6 million each from the Coastal Communities Fund to use on projects that will deliver almost 4,000 jobs, support 250 new business start-ups and create more than 1,500 apprenticeships and 400 volunteering opportunities.
The money will be used for a variety of projects, such as:
schemes to provide skills training and advice
rejuvenating old heritage and leisure facilities
helping businesses embrace digital technology
Local Growth Minister Nick Boles visited Ramsgate in Kent where he saw first-hand how one project will use its grant to double the support it offers to local small businesses and start-ups that will create 70 jobs, and to provide mentoring to local young people from disadvantaged backgrounds.
The £16 million fund for the projects is raised from the Crown Estate's marine assets and reinvested in coastal areas.
Communities Secretary Eric Pickles said:
"It's a missed opportunity if we don't tap into the huge potential our coastal towns have to welcome new industries and to diversify their economies so they can become year-round success stories.
"We've seen enormous enthusiasm for this government fund and had to make some difficult choices but the projects we've chosen will create thousands of jobs and help many start-up businesses.
"This money will help these towns tap into new business opportunities that will create jobs and boost skills that will benefit the whole community."
Listen to an audio clip of Eric Pickles talking about the Coastal Communities Fund on Audioboo.
Today's projects are the second round of this year's Coastal Communities Fund. Six projects were named last year during the first round of funding. Next year the Coastal Community Fund will increase by £4 million to £28 million, a 17% increase on this year. The fund is open to coastal towns across the United Kingdom and is funded by the Exchequer.
Second-round winners
The 20 successful main round winners and their fund allocations are:
Friends of the Folkestone and Marlowe Academies, Ramsgate
£349,724 to allow the Marlowe Innovation Centre to more than double its accommodation and support services to small businesses and new start-ups from 25 to 50 businesses and to create 70 new jobs. The project will be boosted further by a sizeable financial contribution from the Roger De Haan Charitable Trust.
Scarborough Borough Council
£2,599,373 to support a package of capital development and inter-linked revenue projects that will open up land and improve access to Whitby Business Park. This is close to a new potash mine and will also provide operational and servicing support for Europe's largest offshore wind farm. The project will also provide apprenticeship support, skills training and business support for enterprises linked to the potash, renewable energy and other local industries. The project will contribute to the creation of 206 direct jobs and 2,500 indirect jobs in the local economy.
Sunderland City Council
£2 million for public realm and infrastructure improvements to support the regeneration of the historic seafront area of Seaburn and create a new mixed-use leisure-led development. The project will create 521 jobs indirectly, 525 temporary construction jobs, and lever up to £78 million in private-sector investment.
North Tyneside Council
£1,991,612 to regenerate under-used tourism facilities and undertake improvements to the promenade and seafront to enhance the image of the area and improve the visitor offer. The project will deliver 12 direct and 50 indirect jobs.
Swanage Railway Company Ltd, Dorset
£1,469,000 to complete the reinstatement of a railway service between Wareham and Swanage as part of a local community rail partnership. The project will result in 10 direct and 40 indirect jobs by increasing the tourist offer in the area.
Torbay Council, Torbay, Devon
£1,385,656 to support the development of start-up and home-based businesses, social enterprises, an apprenticeship scheme, and the creation of major new green tourism infrastructure in Brixham, Paignton and Torquay. The project will create 280 direct and 42 indirect jobs.
Hastings Borough Council
£1,244,931 to establish a restaurant/food court at Hasting Pier's gateway to provide workplace-based training and apprenticeships for local people that could help them get tourism-related jobs. The project will create 15 direct jobs, 168 indirect jobs from visitor growth and 550 training places.
North York Moors Historical Railway Trust, Whitby
£800,000 to develop the North York Moors heritage railway service linking Whitby to the North York Moors National Park. The project will create 15 new jobs on the railway service and 52 jobs indirectly in Whitby's tourism sector.
Plymouth City Council, Devon
£670,400 to support the regeneration of Plymouth's waterfront by providing cycle hire hubs and cycle route improvements to link up existing waterfront areas and contribute to delivery of the city's visitor plan. The project will create 4 full-time direct and 52 indirect jobs.
Great Yarmouth Borough Council
£600,000 to provide business and social enterprise support, skills and training to help create 200 businesses and 300 new jobs in an area of high unemployment.
Clevedon Pier and Heritage Trust, Somerset
£500,000 towards the cost of pier, heritage and visitor centre improvements. The project will enhance the visitor experience, increase visitor numbers and create 6 full-time jobs and 10 indirect jobs and volunteering opportunities.
South Hams District Council, Devon
£450,347 to improve infrastructure and business support for the local fishing and seafood industry in South Devon. It will create 19 direct and indirect jobs in shellfish farming, supply chains, tourism and apprenticeships.
Port of Blyth, Northumberland
£500,000 to help redevelop an area of the quayside to establish a maritime heritage visitor centre, education and community hub for employment and skills training. The project will create at least 5 direct and 4 indirect jobs.
Redcar and Cleveland Borough Council
£580,720 to boost the local economy by creating a cultural heritage trail, undertaking landscaping and environmental improvements and providing support to local businesses and apprenticeship programmes. Project aims to support over 100 businesses and create 195 jobs.
Morecambe Bay Partnership, Cumbria County Council
£490,000 to stimulate sustainable economic growth by enhancing the area as a tourism destination through branding/marketing, connecting and signing 200 km of a bay cycle way, place-making work, and over 300 training places. The project aims to deliver 33 jobs and will coordinate its work with other projects being delivered by the Partnership.
Lincolnshire County Council
£200,000 to support coastal business and retail modernisation in a deprived area of isolated coastal communities. The project will provide skills training, advice and support to help businesses adapt to and embrace digital technology, online marketing and social media. The project is forecast to create one direct and 10 indirect jobs.
Lynton & Barnstaple Railway Trust (Exmoor National Park), Devon
£150,000 to enhance the existing rolling stock by acquiring an additional 'heritage' carriage for use on a narrow gauge steam railway. Additional capacity will allow the trust to increase visitor numbers and help create 7 full-time jobs and 13 indirect jobs together with more volunteering opportunities.
Cable and Wireless Porthcurno and Collections Trust, Cornwall
£149, 587 to develop the Porthcurno Telegraph Museum to include a learning centre, new galleries, visitor centre and café. The project will also support increased volunteering and community participation and create at least 5 full-time and 10 part-time jobs.
Wadebridge Renewable Energy Network (WREN), Cornwall
£100,000 to sustain and grow renewable energy social enterprise opportunities through renewable energy installation, product development and support for green tourism. The project forms part of plans to make Wadebridge Britain's first solar-powered town and will create 1 direct full-time and 19 indirect jobs.
Porthleven Regeneration Community Interest Company, Cornwall
£99,570 to establish a social enterprise to offer training and skills learning for young people and increase visitor numbers to Porthleven by improved marketing, lighting, parking and regeneration work. The project will create two direct and 20 indirect jobs.
Further information
The £24 million Coastal Communities Fund was launched in 2012 to provide coastal towns in the UK with money to help pay for projects that can transform and diversify seaside economies.
The fund is financed by the government. Money is allocated to England, Wales, Scotland and Northern Ireland on the basis of revenue generated by the Crown Estate's marine assets and is administered and distributed in partnership with the 'BIG Fund', the non-Lottery funding operation of the Big Lottery Fund.
In Scotland, Wales and Northern Ireland there are country-specific boards who work with the BIG Fund to deliver the money. In England, the Department for Communities and Local Government works in partnership with the Big Lottery Fund to perform this role. The Big Lottery Fund has powers to deliver funding from non-lottery sources for charitable purposes or purposes connected with health, education or the environment.
The Coastal Communities Fund will be equal to 50% of the revenues generated by the Crown Estate's marine assets. Based on the Crown Estate's Marine revenues in 2010 to 2011 (£47.4 million) the overall fund will be worth £23.7 million beginning in 2012. Funds can be used to support both capital and revenue projects and communities will be encouraged to match funds with other pots of money.
Photo above by Ted and Jen on Flickr. Used under Creative Commons.
Published 11 February 2013