World news story
Jim O'Neill visits Beijing and Hainan
International economist Jim O'Neill is visiting China in late March in his role as Chairman of the Review on Antimicrobial Resistance (AMR).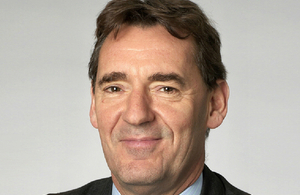 The Review was commissioned last year by the UK Prime Minister, David Cameron, to examine the human and economic cost of drug-resistant infections worldwide (commonly referred to as 'superbugs') and recommend action at a global level to counter this growing threat.
Jim O'Neill and his team will be in Beijing from March 24 until March 26 to learn more about how China is affected by the spread of drug resistance, how it is coping with the problem at the moment and what role its policy-makers, healthcare professionals and pharmaceutical companies can play in tackling the problem. Jim O'Neill will then travel to Hainan for the Boao Economic Forum from March 27 until March 29, where he will be speaking on a number of topics, including the global economic threat of drug resistance.
In December the Review published its first paper, setting out the results of economic analysis which show the significant future economic costs of a failure to tackle worsening drug resistance. The modeling estimated that failing to tackle drug-resistant infections would cause 10 million deaths a year globally and cost up to 100 trillion USD (630 trillion CNY) by 2050. Under this scenario, in China alone, drug-resistant infections could cause close to 1 million deaths annually by 2050, and a cumulative GDP loss of 20 trillion USD (130 trillion CNY).
In February, Jim O'Neill's Review published a second paper, to call on decision-makers to take five immediate initial steps against AMR, including greater global investment in scientific research. The Review recommended the establishment of a global AMR Innovation Fund; steps to help maintain the effectiveness of existing antibiotics; action to address an emerging skills shortage in this crucial field of research; and a push to modernize diagnostic tests and the surveillance of drug resistance worldwide. The Review will be publishing further papers during the course of 2015, and by the summer of 2016 it will recommend a package of actions which it thinks should be agreed internationally to tackle this growing threat. Jim O'Neill sees the G20 as a good international forum for driving forward this action and hopes China will place AMR near the top of the agenda when it leads the G20 talks in 2016.
Speaking about his visit to China, Jim O'Neill said:
China's remarkable economic performance in the last decade and its enormous future potential is something that I have long championed. But I am concerned that the scale of the threat posed by worsening antimicrobial resistance could place all of this in jeopardy: drug-resistant infections could cost the Chinese economy 20 trillion USD by 2050, and even more shockingly, cause an additional 1 million deaths per year.

I believe that China can lead the world in the global effort to tackle this emerging crisis, by putting AMR near the top of its agenda when it chairs the G20 talks in 2016.

While in China I want to meet its leading researchers, policy makers and scientists to see for myself what role it can play to bring the new antimicrobial drugs and diagnostics the worlds needs so much, in rich and poor countries alike.
Published 20 March 2015