Press release
Javid welcomes outcomes of European steel talks
Business Secretary Sajid Javid welcomes new commitments made in Brussels following an extraordinary meeting of the Competitiveness Council.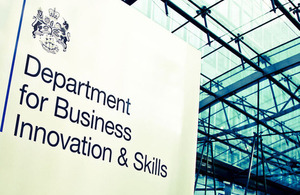 Business Secretary Sajid Javid has welcomed new commitments made today (9 November 2015) in Brussels following an extraordinary meeting of the Competitiveness Council.
Attended by the Business Secretary and other ministers from across Europe, today's talks were focused on the challenges currently facing the steel industry. The underlying pressures driving the difficulties in the steel industry are global overcapacity and rapidly rising levels of imports. These are being felt across Europe and a coordinated European response is required.
There was agreement on the gravity of the situation and on the need to take concrete actions to help ensure the long-term viability of the European steel sector. Those present agreed with the UK's view that actions needing to be taken forward as a priority include:
speeding up existing investigations into unfair trade and dumping, and prioritising resources towards the launch of new cases if clear evidence is presented by industry
ensuring member states can make best use of State Aid rules to support energy intensive industries
intensifying discussions with key steel producing countries including China, Russia, Belarus, Turkey and India, including via the Organisation for Economic Co-operation and Development
hosting a dedicated European steel conference with industry to see what further European Union level action can support the steel industry
Business Secretary Sajid Javid said:
I called for these talks and they have helped to place the challenges facing the steel industry right at the top of the agenda in Brussels.

More still needs to be done at home and with our partners in Europe, but we now have encouraging and important commitments to speed up the European Commission's work on unfair trade practices and ensure the effectiveness of State Aid rules.

The UK will continue to show leadership on this issue in Europe as we know how important the steel industry is.
The full conclusions from today's meeting.
The meeting was granted by the EU Presidency on the request of the Business Secretary after he travelled to Brussels last month (October 2015) to meet with commissioners and make the case for joint action after recent blows to the UK steel industry, including the closure of the SSI plant in Redcar and job losses at Tata Steel plants.
Notes to editors:
Published 9 November 2015