Japanese delegation visits Dounreay
Visitors from the Japanese Government and nuclear industry visited Dounreay earlier this week.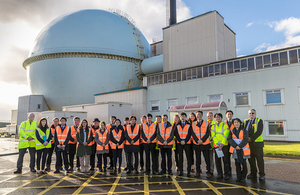 Sixteen visitors from the Japanese Government and nuclear industry visited Dounreay this week as part of a mission to understand the progress being made to decommission one of Europe's most complex nuclear sites.
The visit was arranged by the Nuclear Decommissioning Authority (NDA) and the British Embassy in Tokyo to help share knowledge and expertise as similar facilities in Japan start their decommissioning journey.
Dr Keith Franklin, First Secretary (Nuclear) at Department of International Trade within the British Embassy in Tokyo who co-ordinated the visit, said:
"There are similarities between the situation here and in Japan. Facilities in Japan are where Dounreay was 20 years ago, with the Monju plant just approaching its decommissioning phase.
"What struck us was the progress and the professionalism of everyone. To come and see what has been completed and the knowledge that exists has really impressed the group. I hope that this leads to long-term collaboration between the two sites."
Phil Craig, Dounreay Managing Director, added:
"It is always a pleasure to be able to showcase the complex and innovative work that the team is delivering at Dounreay. The experience and skills that have been developed during the decommissioning programme so far are leading the way for other facilities around the world."
The delegation primarily travelled to attend a UK-Japan Nuclear Dialogue event which brings together officials from the two nations annually to strengthen bilateral cooperation across the full range of civil nuclear activities.
Mark Raffle, NDA Programme Manager for Dounreay, said:
"In addition to seeing some of the internationally ground-breaking decommissioning underway in the county, we were grateful for the opportunity to take the group to the recently opened Nucleus facility in nearby Wick which houses the nuclear and Caithness archives. This also enabled other local companies to demonstrate the important role they are playing in delivering the clean-up mission."
Representatives of Scottish Government, SEPA and Highland and Islands Enterprise also met with the delegation along with Nuvia, JGC and Calder Engineering as examples of the companies supporting nuclear decommissioning in the UK and abroad.
Published 27 October 2017