World news story
Japanese card game portrays life in British schoolchildren's hometown
Winning artwork by children and artists in Thanet, Kent featured on Japanese karuta playing cards and displayed at 'My Thanet' Karuta Exhibition in Tokyo.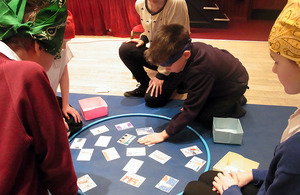 FROM JAPAN Institute recently held a 'My Thanet', Karuta Exhibition at Okuno Karuta Gallery in Tokyo for three weeks, from 18th May. Over 200 visitors enjoyed seeing winning paintings by local British artists and schoolchildren depicting their hometown of Thanet in Kent. The winning paintings were used as designs for karuta playing cards. Karuta is a sophisticated version of the popular card game 'snap' where 26 picture cards are laid out and have to be matched with captions that are read out. The quickest player to touch the correct picture card wins it.
In Japan, karuta is often created and used by local groups with the aim of reinforcing and strengthening community spirit through people coming together to take part in karuta tournaments. 'My Thanet' is the first official karuta group to be set up in the UK. It has been created by FROM JAPAN Institute in partnership with Thanet Fairtrade Initiative with a grant from the Daiwa Anglo-Japanese Foundation to celebrate and raise awareness of the 5th Anniversary of Thanet as a Fairtrade Island.
The pictures and captions range from Margate clock tower and the offshore wind farms, to fish and chips and the Broadstairs Festival. The description on the back of the picture card helps non-Thanet residents to familiarize themselves with Thanet. Nonetheless, the FROM JAPAN Institute has helped over 60 Japanese students visit Thanet schools and has introduced karuta to 1,500 children at 10 local schools since March 2011.
I am delighted that the 'My Thanet' Karuta Exhibition in Tokyo has been received so positively,
said British Ambassador to Japan, Mr Tim Hitchens.
The British Embassy Tokyo is pleased to support the work of the FROM JAPAN Institute and I look forward to seeing more of these creative cultural exchanges expanded to other communities across the UK and Japan.
Related links:
Published 24 June 2013
Last updated 3 July 2013
+ show all updates
one more related link added
Added translation