News story
Japanese Ambassador visits Dounreay
Dounreay recently hosted a visit of senior Japanese dignitaries on behalf of the Nuclear Decommissioning Authority.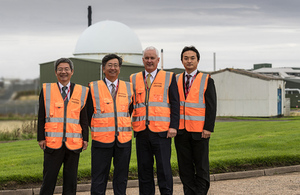 His Excellency, Mr Koji Tsuruoka, Ambassador of Japan to the United Kingdom, Mr Yosuki Ishigami from the Economic section of the Japanese Embassy and Mr Daisuke Matsunaga, Consul General of Japan in Edinburgh visited Dounreay during a two-day visit to the north of Scotland as a guest of Dr Paul Monaghan MP.
During their visit they met senior managers and toured the Prototype Fast Reactor before leaving site to visit other companies in the local area.
Published 30 September 2016