World news story
Japan is Back, Britain is Back
This was published under the 2010 to 2015 Conservative and Liberal Democrat coalition government
Tim Hitchens, the British Ambassador to Japan, gave a speech on the UK-Japan relationship at an event by the Naigai Jose Chosakai held on 3 February in the Tokyo International Forum.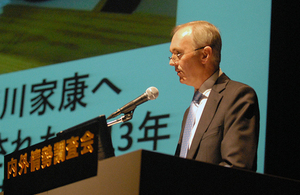 Mr Chairman, Ladies and Gentlemen.
It is an honour to be invited to speak here today, about the relationship between our two great countries, and the new Japan that I see, after having been absent for over two decades.
I first came to Japan in Showa 52; I returned as a student in Showa 55; I was here in the 1980s as a diplomat; and I arrived as Ambassador just one year ago, a few weeks before Prime Minister Abe was elected. So I have an eye to our past, as well as an eye to our future.
Let me start my remarks today by quoting an eminent Japanese figure talking about the relationship between Japan and Britain.
Tokugawa Ieyasu, in 1613 wrote the following letter to King James of England and Scotland. He had just seen the first formal British envoy, John Saris, who had given him a present of a telescope, and had requested that trading relations between Britain and Japan start.
"I acknowledge your Majesty's great generosity in sending me so undeserved a present, which cannot be found in my lands. I hope it will be your pleasure to send your subjects to any port in Japan, and they shall be made heartily welcome, for we greatly congratulate their knowledge of navigation, having so easily discovered this remote country. Though separated by ten thousand leagues of clouds and waves, our territories are, as it were, close to each other."
A copy of that letter is one of my most prized possessions, placed on the wall of the Ambassador's residence in Tokyo with its bright red seal.
That was the beginning of relations between our two countries. The emphasis is on discovery, on the sea, on new technology, and on working together despite the great distances between our two countries.
I would argue that both Britain and Japan are at their best when they are peaceful, adventurous and outward looking, seeing the oceans as an opportunity not a wall.
The relationship between Japan and Britain has been a voyage of discovery. We have discovered a great deal about each other. We have discovered a lot about ourselves in the process. It has also been a voyage of rediscovery; we have, time and again, forgotten what we mean to each other, or had to learn about each other once more.
Only a few years after Tokugawa Ieyasu's letter, commercial relations between Japan and Britain – indeed between Japan and most of the world – ended. For over two hundred years we lost sight of each other. With the Meiji Restoration, we rediscovered one another, and for the next forty years we worked more closely together than ever as Japan modernised. By the first decade of the last century we had become the closest of allies. But again, only a few years after his words, the alliance was over and we were at war. More recently, when I was last here as a diplomat in the 1980s, the UK and Japan were the closest of partners, with more new Japanese investment in the UK in the year 1989 than ever before. Japan's twenty years of economic difficulty have perhaps weakened our understanding of that relationship. But we are now, as so often before, on the comeback. The success of the London Olympics, the selection of Tokyo for the 2020 Olympics and Paralympics, the economic revival of the UK and of Japan, the importance of Asia in the twenty first century, means that this is a relationship which is once more coming into its own. Prime Minister Abe has called it an "a priori partnership"; I would say we are natural allies.
As an encouragement to us all today, here is a graph showing the trends in the Japanese and British economies. We are both on the road to recovery. The IMF has just raised its 2014 growth forecasts for both the UK and Japan; up to 2.4% and 1.7% respectively. Serious underlying challenges remain for us both – in the UK, how to improve productivity and exports, in Japan how to deal with the demographic and debt issues. But this is a time to be positive. Britain is the world's sixth largest economy. And over the last year the Tokyo Stock Exchange's rise, in market capitalisation, is the equivalent of a new British economy being created.
I would like to develop some of these themes today. I'll say a little first, of what the new Britain is like, including some of the things you didn't know, or didn't think were true. The things that make Britain so fascinating as we enter the twenty first century – Asia's century – together. And I will turn to Japan, and suggest some of the areas where Britain and Japan can construct a really strong partnership for the coming decades, where our relationship can reach its full potential. I hope I can offer some thoughts on Japan today, seen through the eyes of a sympathetic observer.
So first: what people in Japan know of Britain.
You know that we are one of the main international actors. We are permanent members of the United Nations Security Council. To do that, you need to be willing to act fast and firmly on the world stage, and not always be popular. You need to make mistakes, and learn from them. You need to understand the relationship between democracy and military action, as we showed in late August on Syria. We have diplomats across the world, and are increasing the number of our Embassies (in my last job, in London, I opened four new Embassies in Africa). We are increasing our international development aid to 0.7% of GNI when most others are reducing the proportion because of the international economic challenges. We have military forces across the world, not just in Afghanistan and Iraq, but also in Africa, the Caribbean, the Indian Ocean, South East Asia, and many others. We own territory in the Pacific Ocean (the Pitcairn Islands), in the Indian Ocean (Diego Garcia), in the Caribbean Sea and in the Atlantic Ocean (Ascension Island and the Falklands), as well as in the Mediterranean (Gibraltar). So we see the world from many angles.
You know that we were the leading manufacturing nation in the world, but are now more famous for services like insurance, the law, and finance, as well as design and consultancy. We remain one of the strongest economies in the world; as I said earlier, sixth, according to the latest figures, though we are going neck to neck with Brazil at the moment. We were one of the fastest growing economies in the G7 last year; like Japan, we are pulling out of deep recession fast.
And you know that we are members of most international organisations: G8, the European Union, the Commonwealth of English speaking nations, G20 – as well as some that you might not have known about, such as the Five Power Defence Arrangement with Singapore, Malaysia, Australia and New Zealand to protect the Malacca Straits.
I think Japanese people still have some strange images of Britain. That London is full of gentlemen wearing bowler hats, or that London is covered in fog. Please do visit London to see how wrong that is! The fog came from burning coal to heat our homes, a practice that stopped in the 1960s when I was born, and I wouldn't know where to go to buy a bowler hat! These are ideas that were out of date already when I first came to Japan in 1977, and they are now very much part of history.
The position of women in particular has changed dramatically. In 1900 a third of the workforce – 5 million people – were women. By 2000 that figure had gradually risen to 7 million. But over the following decade, up to 2011 we shifted gear, and so now over half of the British workforce – 12 million people – are women. So women are no longer a minority at work. In my Embassy here in Tokyo, 75% of the staff are women. The Deputy Ambassador is a woman, and my head of Trade and Investment is a woman. They are there because they are the best at their job. When I was running Africa half the British Ambassadors were women.
What else do Japanese people know about Britain?
That we have an extraordinary creative capacity. In popular music, we seem to be able to write and perform songs that young people around the world respond to. Japan is our second largest market in the world for British music, after the US. We produce great films and books. Britain is of course the country of James Bond. And the country of Harry Potter (the fastest selling books in history, translated into 65 languages, generating more than $8 billion in global box office receipts, more than any other movie series).
You know that we are well known for an excellent design. The Mini. The Union Jack flag, which appears on so many Japanese fashion accessories. The suit from Saville Row, known as the sebiro for that reason. The iMac, IPod, iPhone and IPad (yes, it was a British person, Sir Jonathan Ive, who designed them all). Fashion, where designers like Stella McCartney are now ensuring that London Fashion Week is rivalling Paris and Milan. We have architects who build all round the world; in Tokyo, Tsutaya store in Daikanyama, winner of many international prizes and one of the most famous bookshops in the world, was designed by Mark Dytham a British architect (who lives in Japan).
We also have a special talent for invention and discovery. When John Saris first came to Japan in 1613 the telescope he presented to Tokugawa Ieyasu had only been invented five years before, in England in 1608. It was like Prime Minister Cameron presenting Prime Minister Abe with the very latest iPad! British discoveries and inventions lead the world still. DNA. The World wide web. Digital radio. With Japan, IPS stem cells. In fact Britain has more Nobel prize recipients than any other country bar the United States; the US has twice as many prizes, though five times as many people!
You know that we offer a special welcome to Japanese companies who operate in Europe. The EU remains the destination for around half of all UK exports, and our Prime Minister has made clear our determination to work to make the EU more business friendly and to deepen the single market.
We championed the proposed EU-Japan Economic Partnership Agreement with our EU partners, and are convinced that this can revitalise trade between Europe and Japan. Your support will be crucial to this. Let's take a short break and watch a brief video.
We will be bringing the corporation tax down to 20% next year.
Japan is a big part of the British Economy now. About 140,000 jobs in the UK come from Japanese investment. I may add that it's interesting that, for all the headlines, Chinese investment in the UK has so far brought about 3000 jobs.
And finally, I couldn't end without mentioning sport. In football, both the great Japanese players like Shunji Kagawa at Manchester United.
So there is a lot that you may have known.
There are many more areas in our journey of rediscovery which may surprise you. Here are four.
First, we are now a nation very happy to have foreigners working at the heart of our nation. The Governor of the Bank of England is – the best central banker in the world. Probably our most famous architect is Zaha Hadid, originally born in Iraq – a lady who also has an office here in Japan and is building the new National Stadium in Tokyo. Many of our top companies have foreign CEOs. 50% of the students at the London School of Economic are foreign, and a similar percentage of the teachers. We are very happy to have Japanese, German, French, American, Chinese companies running some of our most important sectors: energy, communications, transport networks, nuclear. If you compare the total of foreign inward investment against our GDP, the percentage in the UK is about 50%, just about the highest in the G20. Japan is nearer 4%. This is all because we are confident that we want the best in the world working for us, not just the best of British. Our experience is that doing so produces economic growth, more jobs for the British population, and more creativity and innovation. The more Japanese scientists, Canadian bankers, and Brazilian advertisers we have in Britain the better. If your firm would like to be among them, and is looking for specific services, expertise or technologies to help your business, then the UK Government will advertise this to 40,000 UK businesses on your behalf. Full details are in the information we provided when you came in today.
Second, in a world where our environment is increasingly important, Britain is helping lead the way. The UK was the first country in the world to introduce domestically legally binding greenhouse gas emission reduction targets – of 80% by 2050 and 34% by 2020. And so far we are well on track to achieve them: our 2011 emissions were 29% lower than in 1990. Being an island, we have lots of wind and lots of sea; we have more offshore wind capacity installed than the rest of the world put together. We know that, to be successful, green policies have to work with business interests not against them. Our Electricity Market Reform Bill passed last year, provides long term policy certainly for those investing in low carbon energy infrastructure. We drafted the policies it contains on the basis of deep consultation with businesses. Meeting our emissions targets is essential to sustainable economic growth, not a block on it. A million people in Britain work in the low carbon and environmental goods sector. And by 2020 all black London cabs will be zero emission – Nissan, interestingly, are working on the new vehicle which looks like the old fashioned black bowler hat! We have been disappointed at the Japanese government's decision to lower its climate change emissions target. But we are working closely with them, and supporting their work on Japan's future energy mix.
Third, we have become Europe's hi-tech hub, attracting hi-tech businesses from across Europe and the world. The digital infrastructure we developed for the London Olympics has become part of the rapidly growing Tech City digital hub in London – incidentally, where my daughter works, so I know it well!
Forth: you know that, though Britain does financial services, its manufacturing days are over? Wrong! We have Europe's largest, and the world's second largest aerospace industry. Did you know that half the commercial aircraft flying in the world at the moment have wings made in Britain. We have a really strong car manufacturing sector, we export many more cars than we import.
So that produces a surprising overall picture: a country which is busy making things; with a healthy financial sector; leading Europe on high-tech; green, foreigner-friendly and diverse! Who would have thought it?
So where does this all lead the relationship between our two great nations?
First, where are we naturally partners? I would point in particular to the work we are doing together.
On security, the two governments have signed a remarkable framework agreement – second only to Japan's with the United States – setting out our cooperation on security and defence issues. I want to see more joint research and production of specific defence equipment. I want to see more collaboration on the way we analyse risk, be it in Africa, the Middle East, or Asia- I am thinking particularly about the way we were able to work together in 2013 following the terrible attack on a UK/Japanese energy installation in Algeria. I want to see even more visits by British and Japanese vessels to each other's bases, where they can work together more effectively. British and Japanese naval forces worked together closely during the terrible typhoon disaster in the Philippines last year. We collaborate in anti piracy operations off Somalia. I want to see more affiliations between our squadrons. And I want to see even deeper collaboration between our major aeronautical and defence companies.
I should add that the British government, like many in Japan and its business community, places a high priority on regional stability. The reputation of East Asia rests on its ability to be an engine of growth in the world economy; we would be worried by actions which heightened regional instability. So we will look to Japan to prioritise finding mechanisms to build trust with its neighbours. Territorial issues must be resolved calmly by all involved, in a way that builds political understanding and doesn't undermine the regional economy, critical to world growth.
On energy, I want to see even more Japanese investment in Britain's nuclear power sector, and even more British support for Japan as it decides the kind of energy future it wants. We bring expertise in running a safe nuclear industry; we bring expertise in decontamination and decommissioning; we bring skills in new build. We are pragmatic about our energy future; for us, nuclear is a crucial part, but only a part, of our energy mix. Why? Because we believe that we can't have energy security or tackle climate change without it. And because we see tackling climate change as the greatest threat to our prosperity and security. We believe nuclear is essential to that but not sufficient.
Third, Japan is at the moment grappling with the difficult issue of collective self-defence. Seen from the outside, this is a difficult argument to follow. Almost all European and North American countries have, for almost 70 years, operated within collective security structures. It is difficult for us to imagine not doing so. One of the great advantages is that if there is a threat, our first effort is to consult and coordinate. We all accept that strength can bring peace; and collective strength brings collective peace. So as Japan considers these issues, I hope it will look at the experience of others around the world.
Let me conclude with some thoughts on how Japan looks and feels in this second decade of the twenty-first century.
I arrived in this country first in 1977. So I have been fortunate enough to see Japan evolve over 37 years.
Let me offer four thoughts, derived from that period of watching Japan, and all my friends in Japan.
First, believe in yourself. There is a reason Tokyo won the Olympics. Japan is safe; well-run; welcoming to foreigners; well-educated; fascinating to visit; and Japan is back. So I hope my Japanese friends will take time to celebrate the fact that the world has chosen your capital city to be the host of the Olympics and Paralympics. That says something bigger than your ability to run a large event. It says that Japan is back on the world stage.
Second, much is made of Japan's twentieth century history. This is a sensitive area, and one where an outside observer must tread carefully. I would just say that Britain, for its part, has plenty of history we are not proud of; that this still affects some of our relationships; but that we should not confuse the mistakes we made in history with the role we can play in the world now. The best way to redeem our past mistakes is to acknowledge mistakes made, be active in helping to build a better future, working within the rule of law to build a network of alliances , with both old friends and new.
Today, I have set out some of the history which exists between our two great countries; a history of coming together, then drifting apart, then coming together again, rather as the sea ebbs and flows. I believe we are now in a period of flow, and can aim for a high tide in relations.
Of course Japan looks first to the rest of Asia, and Britain looks first to the rest of Europe for its security and its prosperity. That is only right and natural.
But we are in a world where physical proximity is much less important than it was. That is partly a function of technology: the air is as important as the sea now, and Skype, internet, and faster jets mean we are closer. When I was a child and lived overseas, I remember every year being allowed one precious minute on the telephone to call my grandparents in England. I now sometimes talk to my daughter and son in England every day. I have Twitter followers in Japan and Britain – and also in Russia, Sweden and China.
So if geography matters less, the opportunities for cooperation between two distant countries are even greater. As Tokugawa Ieyasu said four hundred years ago, "though separated by ten thousand leagues of clouds and waves, our territories are close to each other." If it was true then, it is even truer now. It was a voyage of discovery in the early seventeenth century. It is a voyage of rediscovery in the early twenty-first.
Our gifts to each other 400 years ago were armour and a telescope. Protecting yourself is important, of course, and armour will always be useful. But the most useful gift, I like to think, was the telescope; it allows us to look further away than we can imagine, to far off worlds where we find friends. A telescope seems to me the best metaphor for the way in which Japan and Britain keep discovering and rediscovering each other. And it seems to me very fitting that last year, exactly 400 years after the original telescope was presented to Ieyasu, a modern version was again presented to Japan by its British friends, a symbol of past and future friendship. It is now sitting in my Residence in Tokyo; do come and see it!
Thank you for your attention.
Q & A Session
Q1: You said in your speech that the British Government places a high priority on regional stability (in East Asia). However, the reality is that the relationship between Japan and China is very tense. You said "We will look to Japan to prioritise finding mechanisms to build trust with its neighbours." Please tell us more concretely about what sort of mechanism you expect based on the UK's experience.
A1 (Hitchens): If I knew more concretely what sort of mechanism is appropriate, I would tell the Prime Minister. If I may say based on my 30-year experience as a diplomat, a cycle of statements responding to each other's statements should be best avoided when the relationship between two countries becomes strained. Secondly, if there is a structural confrontation, one should prepare oneself for a golden opportunity for future even when it cannot be resolved perfectly right now. The mechanism, therefore, is that top level meetings are very important. You may have heard of Walter Bagehot, the original editor of the Economist, who had said in English "Nations touch at their summits." Holding meetings between leaders is very important, exchanges at non-governmental level are important, contacts (communications) under surface are very important - communications which are not reported by media are very important. According to my experience with (the confrontations between) India and Pakistan, the UK and Iran and the UK and Argentina, I believe contacts (communications) under surface are very important. We should prepare for the future.
Q2: You mentioned in your speech "We should not confuse the mistakes we made in history with the role we can play in the world now." In East Asia, Japan's relations with Korea and China are very strained. One recent example of the factors of this tension is that Prime Minister Abe visited the Yasukuni Shrine in the end of last year and we are facing the situation where South Korea and China are extremely angry (by his visit). As the Ambassador who knows Japan very well, do you think Prime Minister Abe should not visit the Yasukuni Shrine in future in order to maintain the stability in the Asia Pacific region? If you think so, please tell us the reason(s).
A2 (Hitchens): The last question is the most difficult one. Based on my 30-year experience as a diplomat, I think there is little value in giving a direct answer to this kind of question. However, I would like to say one thing - a generosity of spirit is very important. Therefore, one needs to take a holistic view in order to resolve the issue and one needs to proceed towards resolution by cooperating with allies. Thus, I would like it to be handled in a very careful manner.
Document information
Published: 5 February 2014