World news story
Japan and Britain: stem-cell pioneers
Osaka symposium considers how Japan and Britain - world leaders in this field - can work together to help deliver the huge promise of new cell therapies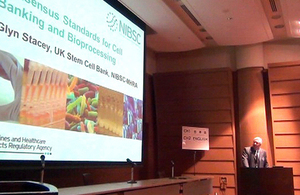 Did you know that within just a few years we may be using stem cells to cure some of the greatest challenges to human health? That heart stem cells, cultured in a dish, start beating together of their own accord – and that the heart cell-sheet techniques pioneered by Osaka University potentially offer a solution to a critical shortage of heart donors? That stem-cell therapies are already available for the treatment of blood disorders and to repair burn injuries? That there are already more than 1000 cell-therapy trials underway around the world? That the use of stem cells rather than live subjects for testing new drugs could greatly reduce test failure rates as well as the need for animal experiments?
The British Consulate-General in Osaka on 14-15 January brought together many of the leading Japanese and British scientists and experts in this field, to looking at how to make sure the incredible promise of stem-cell research becomes a reality.
The Kansai region around Osaka is the epicentre of Japanese stem-cell research. In 2012 Shinya Yamanaka of Kyoto University and John Gurdon of Cambridge University were jointly awarded the Nobel Prize for Physiology or Medicine for the discovery that mature adult cells can be converted to stem cells (induced pluripotent stem cells, or iPS cells). CDB Kobe with Kyoto University will shortly conduct the world's first clinical trial using iPS cells. The UK has a long tradition of pioneering regenerative-medicine research, exemplified on this occasion by the presence of Sir Ian Wilmut, whose team cloned "Dolly" the sheep in 1996 - the first successful cloning of a mammal.
The symposium, and a further event the following day co-hosted by the Takeda Science Foundation (TSF), featured 8 speakers from Britain, 5 from Japan and one from the USA, and saw a combined audience of 550. The meetings were timed to precede the TSF annual Symposium on Pharma Sciences, with the theme this year iPS Cells in Drug Discovery & Development.
Aiming to fulfil the huge promise of cell therapy, governments have to strike a tricky balance between regulation and incentivisation.
Rules that are too permissive could put patients at risk (the meeting heard from Dr Leigh Turner of the University of Minnesota about the proliferation of unlicensed cosmetic surgeons in the USA offering pseudo-stem-cell therapies); but regulation that is too risk-averse also has a cost, deterring treatments that could save many lives.
Later this year Japan will implement the world's most radical regulatory regime for stem-cell therapies, exempting companies from the need to conduct long, expensive clinical trials before offering new treatments to patients. This is obviously very attractive to companies in the sector: two leading British cell-therapy companies, ReNeuron and Intercytex, spoke at the event about the challenges of high development costs and long regulatory approval processes.
In Britain the emphasis is more on strong regulation combined with proactive measures to stimulate innovation. The UK government's Cell-Therapy Catapult offers labs and advice to push innovative technologies through to commercialisation, and a route to the EU market for both UK and Japanese companies.
The Consulate-General in Osaka will be working to encourage more collaboration between Japanese and UK scientists, regulators and companies in this fast-developing and exciting field. If you are interested in getting involved, please contact Simon Fisher or Shinako Inaida at the Consulate-General.
Published 27 January 2014
Last updated 3 February 2014
+ show all updates
This article was updated with additional content further to the news of Dr Haruko Obokata's breakthrough.
First published.