Press release
James Brokenshire appoints commissioners to Northamptonshire County Council
Commissioners to ensure residents receive the high quality services they need and deserve.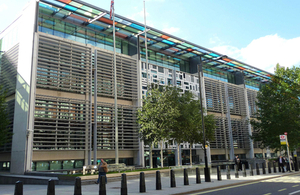 Local Government Secretary, the Rt Hon James Brokenshire MP, has today (10 May 2018) announced he is sending commissioners into Northamptonshire County Council to ensure residents receive the high quality services they need and deserve.
Mr Brokenshire confirmed 2 commissioners would meet senior officials and councillors before beginning their work to help rebuild the authority.
The action follows the publication of an independent report which highlighted serious failings within the council.
In a written ministerial statement to Parliament, the Secretary of State said the commissioners would be led by Tony McArdle, former Chief Executive of Lincolnshire County Council. He will be supported by Brian Roberts, former Deputy Chief Executive of Leicestershire County Council, and an expert in financial management.
Local Government Secretary, the Rt Hon James Brokenshire MP, said:
Action of this kind is rare and is not taken lightly, but I simply cannot ignore the scale of the problems facing Northamptonshire.

It is essential residents are able to have faith in their council, particularly in the responsible use of taxpayers' money.

That's why I'm taking swift action by appointing commissioners who carry with them a wealth of experience. I am confident they will dedicate themselves to the task at hand.
Northamptonshire County Council, the district and borough councils and voluntary organisations have all supported the appointment of commissioners.
Directions given to the commissioners will see them take over the council's functions associated with governance and scrutiny, appointment of statutory officers and strategic financial management.
The commissioners are due to be in place until 31 March 2021 and will update the Secretary of State every 3 months on progress.
Further information
Lead commissioner – Tony McArdle
Tony McArdle was Chief Executive of Lincolnshire County Council between 2005 and 2018. He took up post at a time when the council was suffering from significant corporate governance and service failures and was under the immediate threat of government intervention. He left Lincolnshire with the authority enjoying a reputation as progressive and innovative with a strong profile in a range of areas of work and an established record of high-quality service delivery.
Prior to moving to Lincolnshire, for 7 years Tony was Chief Executive of the Borough Council of Wellingborough in Northamptonshire. He has held interim appointments in other councils and has also been involved in delivering elements of the Council of Europe's programme to improve local government practice in Croatia, Bulgaria and Russia.
Tony chaired the Association of County Chief Executives from 2015 to 2017. He is a Director of the National Centre for Rural Health and Care and a member of the Courts of both the University of Lincoln and Bishop Grosseteste University.
Tony also served as an infantry officer in the Territorial Army for 22 years.
Finance commissioner – Brian Roberts
Brian is the former Director of Corporate Resources and Deputy Chief Executive at Leicestershire County Council.
Previously he worked at Staffordshire County Council, Hampshire County Council, the London Borough of Richmond upon Thames, Hart District Council and Merseyside County Council.
Brian qualified as an accountant in 1980. He is immediate past president of the Chartered Institute of Public Finance and Accountancy (CIPFA). He was a member and past president of the Society of County Treasurers and he has also been a Local Government Association core finance adviser and past president of the Association of Local Government Treasurers. Brian is currently a national council member of CIPFA and a trustee of the Centre for Public Scrutiny.
Published 10 May 2018