It's vital to boost exports
Foreign Secretary William Hague comments in The Sun on his visit to India with the Prime Minister and why a UK-India partnership is important for the UK.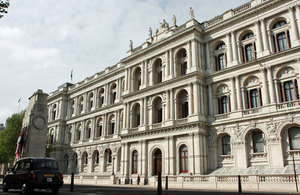 We have many historic links with India. But our visit this week is not about history - it is about the future.
India has 1.2billion people, and soon hundreds of millions more, who can buy our goods and services.
We lag behind other countries in how much we export. We need to fly the flag to help create jobs in the UK.
We're determined to show Britain is open for business and do more to ensure British businesses benefit. The future is a British-Indian relationship in which our countries buy more and learn more from each other.
We can work together on everything from biotechnology and nuclear science to telecoms. The future is a friendship in which our young people see more of each other and entrepreneurs do more business together.
The future is a partnership in which we do more together in culture and sport. And there is more we can do on education too.
India plans to create 40million new university places by 2020, so British universities have a lot to gain.
We have to build links with the countries that will be more important over the coming years. India is one of them. This visit shows Britain is getting organised to make the most of it.
Published 28 July 2010