It's time for recycling rewards, not bin taxes
The new Government will scrap the last Government's plans for the imposition of bin taxes on family homes, Cabinet Ministers Eric Pickles and…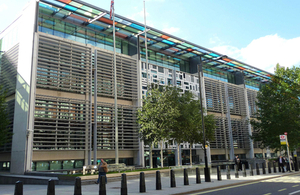 The new Government will scrap the last Government's plans for the imposition of bin taxes on family homes, Cabinet Ministers Eric Pickles and Caroline Spelman have announced.
The announcement was made on a visit to the country's first ever council-wide recycling reward scheme in the Royal Borough of Windsor and Maidenhead today.
Ministers praised the scheme, which started off as a pilot and is now being rolled out across the council, as the right way to encourage households to recycle waste. This is in stark contrast to bin taxes that would hit people in the pocket and egg on many to find ways to avoid paying through fly-tipping or bonfires in people's back gardens.
In Windsor and Maidenhead, the ground-breaking loyalty card style scheme will reward 60,000 households who volunteer to participate with points worth up to £135 a year, at no cost to other residents, from over 100 reward partners. While a matter for local discretion, the new Government will be encouraging councils which want to get involved in such reward programmes.
In addition the scheme would save money by transferring recyclables away from expensive landfill by increasing recycling volumes and supporting the local businesses involved in the reward scheme. Windsor and Maidenhead council have involved 78 per cent of local outlets and expect a 35 per cent increase in recycling.
Eric Pickles, Secretary of State for Communities and Local Government, said:
Rather than helping the environment, bin taxes would have fuelled fly-tipping and backyard burning. The best way to encourage people to recycle is not to punish families, but to encourage and reward them for going green. It's time to rein in the bin bullies and work with local people to build greener and cleaner communities.
Caroline Spelman, Secretary of State for Environment, Food and Rural Affairs, said:
Windsor and Maidenhead Council have got it right by rewarding people for voluntarily doing the right thing not penalising them for doing the wrong thing - that is how we can change behaviour, improve the environment and get people to play their part in a Big Society.

That is why we are here today supporting the first ever council-run scheme in the UK to give residents reward points or cash vouchers for recycling.
Households volunteer to activate a RecycleBank account. They then receive a new, blue wheelie recycling bin for their mixed waste. Residents will earn points for how much residents recycle, similar to airline miles for flying - rewarding households 5.5 points for each kilogram (kg) the household recycles.
Points can be redeemed for rewards like money off products and services from participating local and national reward partners including retailers and service providers, or donated to local schools. RecycleBank already has 116 UK reward partners, including Marks and Spencer, Coffee Republic and Cineworld.
Related downloads
MS Word, 34 kb, 2 pages
Twitter
Keep up to date with the Department by following us on Twitter (external link).
Media enquiries
Visit our newsroom contacts page for media enquiry contact details. *[ kb]: Kilobytes *[MS Word]: Microsoft Word
Published 7 June 2010