News story
It's all systems go for Mission X 2015
UK students and teachers to embark on 'Mission X: Train Like an Astronaut' programme.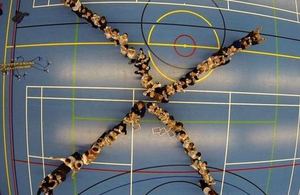 Over 15000 UK students and teachers are about to embark on the hugely popular science, education and fitness programme, 'Mission X: Train Like an Astronaut'.
Supported by the UK Space Agency, as part of the international Mission X challenge, Mission X UK blasts off this week and will use astronaut training to teach how diet and exercise play an important role in human performance in space and on the Earth. Mission X activities are free to all and can be used by individuals, schools, or community groups.
Students from Rode Heath Primary School in Cheshire have kicked off their Mission X challenge by working with sports scientists from the Department of Exercise and Sport Science at Manchester Metropolitan University (MMU) to undertake some baseline fitness. During a Mission X launch event held at the Crewe campus on 14 January, 110 Year 3 to Year 6 pupils were able to measure their fitness, take part in teambuilding activities and visit the environmental chamber facility at the University to experience the extremes of temperatures that astronauts may need to deal with. They were also encouraged to set their own ambitions sky high through sessions about the importance of lifelong learning. Images of the activities were recorded by a drone and will be shared on the' Mission X: Train Like an Astronaut' website.
Mission Controller for the school, Julie Wiskow, said:
It is so exciting to see how engaged the children are learning about space. We have created our own mini International Space Station as a learning environment in school. Students are learning not just about their bodies and fitness but also learning lots of mathematics and science through these fun astronaut activities. We've been tweeting our progress to astronauts and are thrilled that they are interested in what we are doing. You don't need any special facilities to take part in Mission X but we have been so lucky being able to use the world class facilities at Manchester Metropolitan University.
MMU's sport scientist Clare Pheasey highlighted the significance of this fantastic educational collaboration:
Involvement in Rode Heath's superb out of this world project and Mission X has been a win-win for everyone! We have been able to provide undergraduate students with the opportunity to use their degree skills to combine: sport, space and STEM subjects in order to inspire the future generation, whilst the school's pupils have experienced university life, using equipment and resources that would not normally be assessable at Key Stage 2.
The event hosted by the Department of Exercise and Sport Science is the first of a series of events across the UK supported by the UK Space Agency. Further events are planned at the Glasgow Science Centre, Royal Observatory Greenwich, National Space Centre, and University of Teeside. All schools taking part are also being invited to report on their mission progress at an event hosted by the Parliamentary Space Committee at the House of Commons.
The final event will invite teachers to take their astronaut training to a new level with a visit to the man-carrying centrifuge facility at QinetiQ in Farnborough on Tuesday 4 June 2015. The specialist facility, unique in the UK, is used to prepare fighter pilots and astronauts for the high G forces of air combat and launch/re-entry. During their visit, students will be able to witness the physiological effects of the Earth's gravity in the laboratory and see how such effects become problematic at the higher levels of 'gravity' experienced when the human body is exposed to acceleration. Man-carrying centrifuges were made famous in the Moonraker film when James Bond was nearly tested to destruction.
Jeremy Curtis from the UK Space Agency commented:
I've been amazed by the commitment of teachers and students to the Mission X challenge. The teamwork and enthusiasm for science, fitness and nutrition will be important to the space workforce of the future.
Astronauts need to be in peak physical condition even before they journey into space to help combat the muscle loss and changes their bodies will experience in a micro-gravity environment. Tim Peake, the British ESA Astronaut is currently undergoing his pre-flight fitness programme and is due to launch for the International Space Station in November. He said:
Let's continue to inspire the next generation with fun science, healthy eating and good exercise - go Mission X!
Published 21 January 2015