Press release
Is your town leading the way on older workers?
New figures reveal Watford, north Dorset and the Shetland Islands are leading the way against outdated stereotypes of older workers.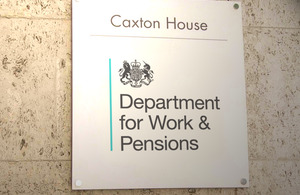 New figures reveal areas as diverse as Watford, north Dorset and the Shetland Islands to be leading the charge against outdated stereotypes of older workers and flying the flag for fuller working lives.
They are among local authority districts across Great Britain with the highest rates of employment amongst older workers, according to new information collated by the Department for Work and Pensions (DWP).
Watford – home to the headquarters of several major companies – boasts the highest estimated employment rate amongst 50 to 64s.
Latest figures for April 2013 and March 2014 show Watford recorded 89.5% of this age group in work. The Shetlands followed closely on 88.3% and north Dorset on 87.2%.
Other high-performing areas include Stroud in Gloucestershire (85.3%), south Northamptonshire (84.6%), Horsham in Sussex (84.2%), and Tandridge in Surrey (84.2%). The remainder of the top ten is made up by east Northamptonshire (84.1%), Broxbourne in Hertfordshire (83.2%) and Stevenage in Hertfordshire (83.0%).
DWP Minister Steve Webb said:
The business case for ignoring outdated and inaccurate stereotypes and giving older workers a chance to thrive is absolutely compelling, and these figures show that in some parts of the country that message is being received loud and clear. What we must do now is extend the positive record we're seeing in counties like Hertfordshire across the whole of the UK.

If we want to ensure people have comfortable retirements, that business thrives and that our economy continues to recover, then equality of employment opportunity for older workers isn't just a 'nice to have', it is essential.

Another crucial point is that a person dropping out of the workforce early can have a devastating effect on their retirement income. We owe it to people to do everything possible to ensure they can benefit from a full working life.
Dr Ros Altmann, the government's Business Champion for Older Workers, said:
Older workers have a huge amount to offer any workforce. They generally have unrivalled life and work experience, often boast a broad range of skills and, according to many employers I've spoken to, tend to display great attitude and work ethic.

Of course, there can be unique challenges faced by older workers – particularly in manual or strenuous jobs – but there is no reason why a person in their 50s or 60s cannot re-train to take on a different role with their existing employer, cut down their working hours, or even opt for a complete career change.

We need to get rid of the traditional stereotype which suggests that people over 50 are too old to learn or change and are expected not to work, even if they want to. There can be a world of opportunities for older workers which can enrich their lives and also boost our economy.
As well as highlighting the areas with the best records, the figures also show those places with the furthest to go to develop a labour market which makes full use of the skills and experience of their older working age population.
Areas in which around half of older workers are out of work include Hyndburn in Lancashire (48.1%), Rossendale in Lancashire (48.2%), west Somerset (49.2%), Tower Hamlets in London (50.6%) and Barrow-in-Furness in Cumbria (51.7%).
The prevalence of particular industries can make the challenge of providing equal opportunities for older workers more difficult in some areas of the country than others.
In types of work where this is the case, the government is keen to encourage employers to consider the benefits of retraining or altering the role of older employees, in order to keep their skills and experience on board.
Earlier this year, the government launched Fuller Working Lives, a piece of research and analysis highlighting the vast benefits that could be reaped by individuals, industry and the overall economy by tackling unemployment and economic inactivity amongst the over-50s. It also set out some of the specific factors which can often lead to older workers being forced out – or kept out – of employment early, before they reach State Pension age.
This followed landmark changes previously brought in by the coalition government to abolish the default retirement age – which previously forced many people to give up work before they felt ready – and extend the right to request flexible working to all employees.
The DWP is also promoting retraining opportunities available to older jobseekers through the Jobcentre Plus network.
There are around 650,000 vacancies waiting to be filled in the UK economy at any one time, with continuing economic growth creating new ones every day.
More information
Read Fuller Working Lives – A Framework For Action.
See infographics setting out the key elements of the DWP's Fuller Working Lives agenda.
Read a biography of Dr Ros Altmann and of Steve Webb MP
There are around 2.9 million people aged between 50 and State Pension age out of work. Over half of men and women have already stopped working before they reach State Pension age.
With life expectancy continuing to rise and time in retirement getting longer, helping the over-50s to stay in and get back into work has a key role to play in enhancing people's standard of living in retirement.
By working one year longer, an average earner could boost their pension pot by around £4,500, in addition to earning an extra year's salary. Conversely, an average earner retiring 10 years early could see their pension pot shrink by a third.
Research conducted by the National Institute for Economic and Social Research has also demonstrated the scale of potential benefit to the overall economy, finding that if everyone worked one year longer, the UK's GDP could increase by 1% (equivalent to £16 billion in 2013).
Around 40.8% of over-50s on Jobseeker's Allowance have been claiming for 12 months or more, which is substantially higher than the overall rate (30.2%).
Demographic changes present major opportunities for employers to harness the benefits of recruiting older staff, but also pose a serious threat to businesses which continue to believe they can rely solely on a young workforce. In the next 10 years, there will be 700,000 fewer people aged 16 to 49 in the UK labour market but 3.7 million more aged between 50 and State Pension age.
The Jobcentre Plus network works with various partners in local areas to support older jobseekers. Examples of local approaches currently being developed across the UK include:
running focus groups of older people to ascertain their needs to develop future provision
introducing local workshops/group information sessions for specific 50+ needs covering CVs/job applications, interviews, further support and moving into employment or self employment
using the Support Contract and Flexible Support Fund to provide provision targeted at older claimants
providing dedicated advisers for people aged over 50
work clubs specifically for people aged over 50
self employment support
IT provision aimed specifically at older people
specialist training courses for advisers to help them better understand the needs of older people
Contact Press Office
Media enquiries for this press release – 0203 267 5123
Press Office
Caxton House
Tothill Street
London
SW1H 9NA
London Press Office (national media and London area enquiries only – not questions about personal claims) 020 3267 5144
Out-of-hours (journalists only) 076 59 108 883
England and Wales (local media enquiries) 029 20 586 then 097 or 098 or 099
Scotland (local media enquiries) 0131 310 1122
Follow DWP on:
Published 20 August 2014
Last updated 20 August 2014
+ show all updates
Updated local authority comparison table with corrected figures.
First published.