Irish Guards prepare for contingency role
Troops from No 1 Company of the Irish Guards have been conducting public order training to prepare them for their upcoming role as part of the UK's contingency operations battalion.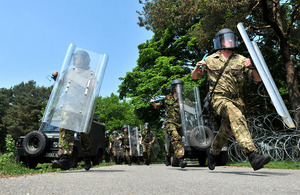 On 1 April 2012 the Spearhead Lead Element ceased to exist and was replaced by the UK Operations Battalion and the Airborne Task Force (ABTF). The UK Ops Battalion will focus primarily on UK response, while the ABTF will take on all expeditionary responsibilities.
No 1 Company of the Irish Guards conducted public order training at Longmoor Training Area in Hampshire to prepare for their new role within the UK Ops Battalion, which will start in September 2012.
The company of 120 soldiers will form part of a highly adaptable battalion designed to deploy at short notice to deal with fast-unfolding crises in remote parts of the world. They have therefore been required to conduct training that develops the necessary skills to deal with a wide variety of scenarios.
One potential task is a deployment to the Balkans at the end of the year to support an EU-led peacekeeping mission.
Prior to taking on this role the soldiers will be forming the Guard of Honour for the carriage procession following the Service of Thanksgiving at St Paul's Cathedral on 5 June 2012 for the Queen's Diamond Jubilee.
A Guard of Honour consisting of three officers and 101 other ranks will be on the forecourt of Buckingham Palace for the Queen's return in the carriage procession. They will perform a 'feu du joie' which translates as 'fire of joy', whereby a salute is fired by rifles in rapid succession along a line of troops, interspersed with bars of the National Anthem. This will mark the end of the weekend's Diamond Jubilee celebrations.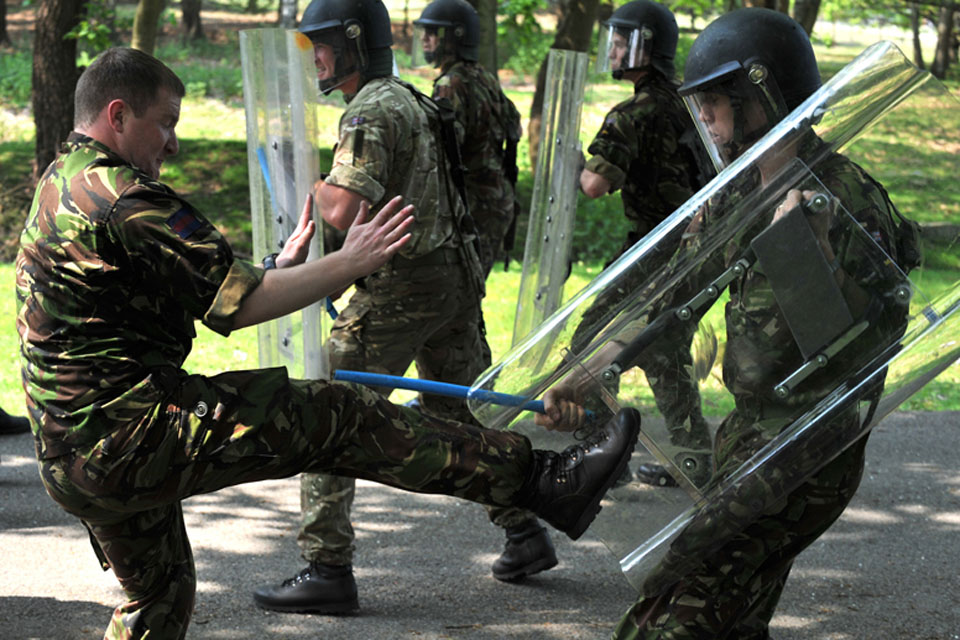 The Irish Guards will also be busy during the Olympics providing security for a number of locations, including the rowing lake at Eton Dorney.
Commenting on the new role and diversity of tasks, Second Lieutenant Florian Graham-Watson, 2 Platoon Commander, No 1 Company of the Irish Guards, said:
From September we are essentially on standby for any contingency operations that may happen, so we are preparing for any eventuality.
It's very busy at the moment for us; we are on the drill square almost every day and we're filling in with all the extra training we need to do for the contingency role as well as the Olympics.
The drill square is all about discipline, professionalism, words of command, and looking smart; all the kind of things that are transferable in every facet of the Army.
I think there are many parallels between the public order training we're doing at the moment and the skills that you learn on the drill square.
Published 30 May 2012