News story
IPO invests £3m of in-year savings in business support
Baroness Wilcox revealed the savings will fund projects to help companies develop new technologies and offer advice in developing their intellectual…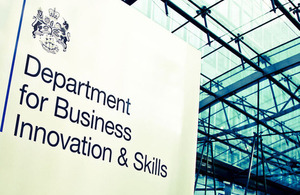 Baroness Wilcox revealed the savings will fund projects to help companies develop new technologies and offer advice in developing their intellectual property.
The announcement forms part of a cross government package of measures, which were revealed today, to help the five million small companies in this country grow and boost enterprise across Britain.
The IPO made 11 per cent savings earlier this year, as requested from all Government departments, and now money has been earmarked to help more than 300 companies.
Baroness Wilcox said:
"This investment in growth will help businesses carry out new research projects, bring new products to market and receive extra support in developing their intellectual property.
"The future of the UK economy lies with these high tech industries. For many of these innovative firms, their ideas, their intellectual property, will be their most valuable assets."
Baroness Wilcox added the savings had been made without damaging frontline services.
She said:
"This investment clearly demonstrates the Government can identify savings without harming frontline services.
"We have identified and eliminated waste. That money will now go on helping firms grow and succeed."
The money will fund competitions and schemes run by the Technology Strategy Board, which is the Government's main channel for promoting innovation. The projects chosen for support would have a significant IP element.
The Technology Strategy Board projects being supported by the IPO are:
Small Business Research Initiative, which uses government procurement to drive innovation. It involves running competitions to find new technologies to solve the needs of government departments and often supports small early-stage companies.
Collaborative R&D support. This brings together business and academics to undertake pre-competitive research in areas where the UK is strong. So for example, the current round is targeting Advanced Materials, Biosciences, Electronics, High Value Manufacturing, Information and Communications Technology and Nanotechnology.
This support will enable businesses to benefit from:
Project funding
Advice on IP protection. Firms supported by the Technology Strategy Board will be helped to develop an IP strategy to take their products to market.
IP audit - a detailed look at a company to help it ensure intellectual assets are identified and managed properly.
State of the art basic assessment - looking at whether the proposed idea is new and what competing solutions exist.
Half of the savings will be used to support business while the rest will be re-invested in measures leading to greater efficiencies within the IPO. The funding will be for one year only.
Notes to editors
1) The Intellectual Property Office is within the Department for Business, Innovation, and Skills and responsible for the national framework of Intellectual Property rights, comprising patents, designs, trade marks and copyright. Its role is to help manage an IP system that encourages innovation and creativity, balances the needs of consumers and users, promotes strong and competitive markets and is the foundation of the knowledge based economy.
2) The Technology Strategy Board is a business-led executive non-departmental public body, established by the Government. Its role is to promote and support research into, and development and exploitation of, technology and innovation for the benefit of UK business, in order to increase economic growth and improve the quality of life. It is sponsored by the Department for Business, Innovation and Skills (BIS). For more information please visit www.innovateuk.org
3) Contacts
IPO Press Officer: Paul Conroy 020 7215 5303
3) BIS' online newsroom contains the latest press notices, speeches, as well as video and images for download. It also features an up to date list of BIS press office contacts. See http://www.bis.gov.uk/newsroom for more information.
Notes to Editors
Contact Information
Name BIS Press Office Job Title
Division COI Phone
Fax
Mobile
Email NDS.BIS@coi.gsi.gov.uk
Published 1 November 2010