News story
IP Minister signs UPC Protocol agreement
Baroness Neville-Rolfe attends signing of UPC protocol agreement in Luxembourg with representatives of member states.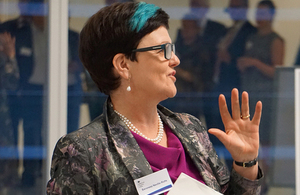 Speaking at the Competitiveness Council in Brussels today, UK Intellectual Property Minister Baroness Neville Rolfe DBE said:
The Government wants the UK to be part of a European patent system that supports growth and fosters innovation.
Today we are a step closer to the realisation of a new single unitary patent and Unified Patent Court providing uniform protection for UK business in up to 26 EU Member States.
This signing represents a milestone in the UK's and others preparations for the introduction of the Unified Patent Court to support the UK's and Europe's leading edge innovative companies.
The Central division of the UPC, in London, will further strengthen the UK's legal and professional services sector, and reinforce London's status as a world leading centre for dispute resolution.
This is the kind of EU reform that the UK has been consistently pushing for and that will help make Europe more competitive. The single European patent brings down the barriers to UK firms that want to make the most of the cross-European market by offering them protection for their inventions.
The UPC and Unitary Patent provide a cost effective option for innovative businesses wanting to protect and promote their inventions across much of Europe.
The UPC will offer people the opportunity to take a case to a single court and get a decision which will be enforceable across multiple participating states.
The Preparatory Committee aims to complete its work by June 2016 with a view to the UPC opening at the beginning of 2017.
A copy of the protocol is available via the Unified Patent Court preparatory committee website.
Published 1 October 2015