World news story
IOM Standing Committee on Programmes and Finances: UK Statement.
This statement was delivered at the International Organisation for Migration (IOM) Standing Committee on Programmes and Finances on 31 October 2017.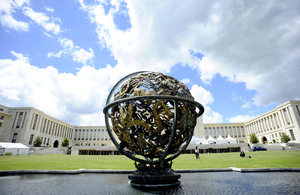 The UK would like to extend our appreciation to the Director-General for his continued strong leadership of the Organization and to the Administration who work so hard to deliver the outcomes and reforms we endorse.
Once again it has been an incredibly busy year for IOM. We note in particular IOM's continued role providing technical and policy expertise to support the development of the Global Compact for Safe, Orderly and Regular Migration, as befits their role as the related Agency in the UN system with a clear mandate on migration issues. We welcome this focus on the Global Compact for Migration.
IOM is also a key partner for the UK in humanitarian crises. If we want to tackle today's humanitarian crises effectively, we urgently need a more collaborative, more transparent, more accountable, and ultimately more effective system that can meet vulnerable people's needs in a sustainable way. We need to shift from a reactive, short-term emergency model to one that is more proactive and long-term. We recognise our role as donors in delivering this vision - and our commitment to high levels of multiyear and flexible funding is part of that. In return we will use our funding to create incentives for multilateral agencies to perform better and achieve collective improvements that will make a difference on the ground.
The UK has now agreed a Memorandum of Understanding and Performance Agreement with IOM, and we made our first annual payment of £6 million to IOM in October. This £6 million is part of a total of £24million of unearmarked core funding to be dispersed over 4 years, giving IOM the flexibility to use it however it sees fit. For the first time, however, we are making 30% of all UN humanitarian agencies core funding contingent on achieving mutually agreed performance indicators, linked to both strengthening IOM as an organization and supporting its central role, working with other agencies, in reforming the humanitarian system. Some of this is linked to delivery of the Grand Bargain Commitments, and reforming the system through which we deliver humanitarian assistance is crucial if we are to meet the needs of the poorest and most vulnerable. The UK is already doing things differently to meet our Grand Bargain commitments – investing more in crisis preparedness and adopting a more developmental approach to working in protracted crises.
The UK is proud to be one of the largest donors to the IOM, and IOM is a key partner for us across the full range of issues under its mandate, from the large scale humanitarian operations I have already referenced, to projects in individual countries supporting the development of border management capability for safe, orderly and regular migration. We are therefore pleased to see increased reporting across the range of IOM activities and indeed would welcome more explanation of the strategic approach to prioritizing these issues.
I would like to conclude, as always, by thanking IOM staff for their continued commitment and for serving the needs of its members and of migrants around the world, often in difficult or dangerous circumstances.
Published 31 October 2017