Inward investment at heart of UK economic recovery plans
Prime Minister David Cameron has outlined why the Government has put the UK's ability to attract and retain inward investment at the heart of its economic recovery plans.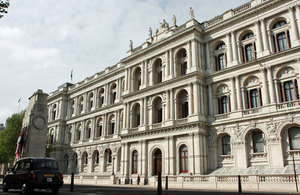 The Prime Minister was speaking today at the UK Trade & Investment Business Summit to over 100 of the UK's leading investors, including representatives of Hutchison Whampoa, Motorola, Tata Group, Toyota, Siemens, Emirates, Fujitsu and Pfizer.
Visit the Number 10 website to watch a video of the Prime Minister's speech.
UK Trade & Investment today released the UK's national investment figures which showed that a record numbers of countries invested in the UK in 2009/10. Inward investment generated 94,000 jobs over the past year, a 20 per cent rise on the previous year. These jobs were generated by a smaller number of projects - 1,619, down from 1,744 projects the previous year.
Prime Minister David Cameron said:
"Attracting and retaining inward investment is hugely important for our economic recovery.
We want Britain to be a place where companies can grow and succeed, where the world's best companies thrive, where great ideas and innovations are turned into great products and where we have a world-class workforce.
We are determined to deliver the pro-business environment investors need; getting the deficit down to create certainty and stability, cutting business taxes, delivering flexible employment and cutting red tape and regulation.
Whether your company is established here, expanding here or relocating here, Britain is back open for business and it's going to be better than before - and better than the competition."
Business Secretary Dr Vince Cable said:
"Inward investment is crucial to the success of the UK's economy. It creates thousands of jobs for the country and is key to the economic growth of our regions.
I know how attractive the UK is for doing business. That's why I'm so pleased that today I can meet with such vital international companies to encourage them to keep bringing business to Britain."
The Foreign Secretary William Hague's visit to China and Japan, now underway, will focus too on the business and investment opportunities the UK offers. He is due to give the second in his series of four major foreign policy speeches, during the visit, with the focus on the global economy.
UK Trade & Investment, the Government department which brings high quality investment to the UK, played a role in securing more than half of the 94,000 jobs generated by inward investment, a two-fold increase on the previous year. UKTI helped to land 759 projects, a 26 per cent increase on the previous year, and a record year. Read their investment report 2009/10 for further details of their work.
Published 14 July 2010