World news story
Invitation to tender for research into UK, Spain and Portugal trade performance
Identifying opportunities for future growth for British exports to Spain and Portugal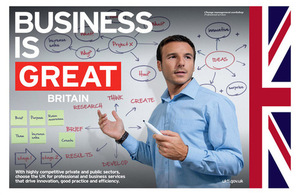 UK Trade & Investmentukt is looking to undertake some research to identify areas (defined by sector, product or service) where significant growth potential exists, either by recovering lost market share or by pursuing areas of new growth where UK supply capability can make an impact.
In order to do this it is necessary to understand the dynamics of UK exports and Spanish/Portuguese import demand trends since 2007 to the present day.
About the research
The research should also cover Spanish/Portuguese export performance trends and information on which products and services have grown most significantly and to which countries.
The final aim of this research is to identify where there is potential to improve UK performance in the Spanish/Portuguese supply chains.
For further information please see the attached document:
Those companies interested in bidding for this research should send their proposals to susana.villanueva@fco.gov.uk no later than midday on Friday 23 January.
Published 15 January 2015