News story
Investors in coastal areas to have their say on how regulation is enforced
Business and Enterprise Minister Mark Prisk said: "The Government is keen to support the economic development of coastal communities and …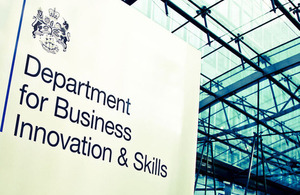 Business and Enterprise Minister Mark Prisk said:
"The Government is keen to support the economic development of coastal communities and seaside towns, promoting sustainable economic growth and jobs, so that people are better able to respond to the changing economic needs and opportunities of their area.
"Dealing with the way regulations are enforced and the different processes for consents, licences and assessments can sometimes be a real issue for those who want to invest in coastal projects. That's why I'm urging anyone involved in making investments and running large projects on the coast to visit the Focus on Enforcement website and let us know your views so that we can consider and take any necessary action.
"We know there are examples of good practice too, so we also want you to tell us on the website about the people who give really good advice and support. This is your chance to make a real difference to the way regulations are enforced."
Chief Executive of the Manufacturers' Organisation Terry Scuoler said:
"Our coasts and estuaries offer a wealth of exciting manufacturing opportunities, such as the marine energy industries emerging up and down the nation's coast. We must make sure that the regulatory environment supports rather holds back these new ventures. So I wholeheartedly welcome this government initiative."
James Cross, Chief Executive of the Marine Management Organisation (MMO), said:
"The MMO welcomes the review and its efforts to work constructively with businesses to reduce or simplify regulatory burden wherever possible."
The campaign allows comments to be posted anonymously as well as 'on the record' and is also interested to learn of any evidence that third parties are implying that regulations require companies or individuals to take action when in fact the regulations do not require this.
Join the conversation on Twitter using the #focusenforce hashtag.
The Focus on Enforcement website, for the first time, also provides details on national regulators in one place and on regulatory functions carried out by local authorities.
Notes to editors:
The Coastal investments and projects theme is now live on the Focus on Enforcement website and can be found at: http://discuss.bis.gov.uk/focusonenforcement. The site also gives individuals and businesses the opportunity to suggest new areas for review of compliance and enforcement arrangements, and to provide evidence on areas 'in focus'. Users of the website can also currently provide their feedback on their experiences of pubs, in particular community pubs (until 17 August).

The focus of all these reviews is on the way regulation is delivered and compliance is achieved - whether through inspections, advice or enforcement - not about the regulations themselves. A separate initiative - Red Tape Challenge - invites the public, business and the voluntary and community sector to give their views, comments and ideas on what regulations should stay, be improved, or be scrapped altogether.

Each review starts with a 5-6 week evidence-gathering phase.

In addition, the Focus on Enforcement website, for the first time, provides details on national regulators, their remits and regulatory budgets and staff resource in one place and information is also provided on regulatory functions undertaken by local authorities. (A large number of organisations play a part in securing compliance with the law. They include national regulators, local authorities, and bodies independent of Government, some of which have statutory regulatory functions. The list on the website is not exhaustive and details will continue to be added and updated).

The scope of Coastal investments and projects encompasses:
Regulatory activity in England by national regulators and local authorities which affects coastal investments and larger projects on the coast. It will consider, amongst other things, the interaction between different regulatory regimes. Its main focus will be on any barriers to growth arising when projects are affected by both land and sea-based regulation.
The review could include, but is not limited to
on-shore regulatory activity related to off-shore renewable energy generation infrastructure;
port and estuary development, including dredging;
the interaction between nature conservation regimes and coastal projects.
The review would also be interested to learn about:
examples of effective, tailored and easy to understand guidance and advice for businesses, and good regulatory delivery that is risk-based, focused on achieving compliance and supporting business growth.
any issues encountered where third parties are encouraging companies to undertake unnecessary compliance activity eg. where regulation does not actually require something to be done, but companies are led to believe it does.
The scope will exclude:
Off-shore farming (eg salmon, mussels).
We will not be looking at issues related to housing, flooding or erosion unless specifically related to coastal investments and projects matters
Other regulatory activity which is not unique to coastal projects such as employment law, company law etc.
The review will avoid duplication of effort with other recent or current reviews of similar subject matter.
"Regulatory activity" in this context includes action taken by national regulators or officers of local authorities, including:
The process for obtaining the range of consents, licences and assessments (including those related to environmental and safety issues) needed by companies seeking to operate on coastal areas;
the co-ordination and timing of these licences;
provision of advice on compliance with the law;
inspections of locations or equipment in order to satisfy regulatory authorities of compliance with the law;
requirements to make formal applications, or provide information, in order to obtain necessary permits;
requirements to attend courses / obtain particular qualifications;
enforcement proceedings taken against individuals or organisations in the event of failure to comply with regulations. The review cannot consider comments on specific cases unless all proceedings have finished, but can consider general evidence in relation to enforcement proceedings.
The review will also seek to identify examples of effective, tailored and easy to understand guidance and advice for businesses, and good regulatory delivery that is risk-based, focused on achieving compliance and supporting business growth.

The Marine Management Organisation (MMO) is one of the regulators whose work will be considered by the review. MMO was established under the Marine and Coastal Access Act 2009 to make a significant contribution to sustainable development in the marine environment and to promote the government's vision for clean, healthy, safe, productive and biologically diverse oceans and seas. The EEF is the Manufacturers' Organisation, providing support and representation to help manufacturing businesses evolve, innovate and compete.

The Government's economic policy objective is to achieve 'strong, sustainable and balanced growth that is more evenly shared across the country and between industries.' It set four ambitions in the 'Plan for Growth' (PDF 1.7MB), published at Budget 2011:
To create the most competitive tax system in the G20
To make the UK the best place in Europe to start, finance and grow a business
To encourage investment and exports as a route to a more balanced economy
To create a more educated workforce that is the most flexible in Europe.
Work is underway across Government to achieve these ambitions, including progress on more than 250 measures as part of the Growth Review. Developing an Industrial Strategy gives new impetus to this work by providing businesses, investors and the public with more clarity about the long-term direction in which the Government wants the economy to travel.
BIS's online newsroom contains the latest press notices, speeches, as well as video and images for download. It also features an up to date list of BIS press office contacts. See http://www.bis.gov.uk/newsroom.
Notes to Editors
Contact Information
Name BIS Press Office Job Title
Division Department for Business, Innovation & Skills Phone
Fax
Mobile
Email bispress.releases@bis.gsi.gov.uk
Name Aidan Steer Job Title
Division Department for Business, Innovation and Skills Phone 020 7215 5245 Fax
Mobile
Published 19 July 2012