News story
Investment in UK businesses, protected by intellectual property rights, is worth £65 billion per year
Two new reports, 'The Role of Intellectual Property Rights in the UK Market Sector' and 'Film, Television & Radio, Books, Music and Art: UK …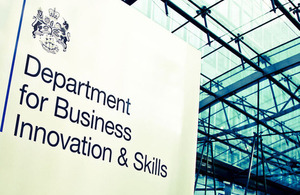 Two new reports, 'The Role of Intellectual Property Rights in the UK Market Sector' and 'Film, Television & Radio, Books, Music and Art: UK Investment in Artistic Originals' commissioned by the Intellectual Property Office (IPO), highlight that more money than ever before is being invested in products and services that have protection in copyright, designs, patents and trade marks.
The reports also show that £3 billion of copyright investment is not included in National Accounts, meaning that a substantial amount of money is not accounted for in the value of intellectual property growth. The IPO is now working with the Office of National Statistics (ONS) to factor that into Gross Domestic Product (GDP) in 2012.
Baroness Wilcox said:
"These reports show that business investment in intellectual property rights has more than doubled since 1990 and were worth at least £65 billion in 2008, a figure which is expected to continue to grow. This is a significant amount of growth and it's important that this investment continues to build over the coming years.
"Businesses who decide not to protect their intellectual assets are taking a huge financial risk because they may lose any rights to their creative ideas. We would therefore always encourage companies to make an investment and make sure they gain the financial benefits they are entitled to.
"The recent Hargreaves review of intellectual property in the UK highlighted that strong evidence should drive future policy and it is clear from the reports published today that protecting rights can add billions of pounds to UK businesses."
The main findings of the reports are:
Investment in UK businesses covered by intellectual property rights is worth at least £65 billion per year
Knowledge investment in rights protected by patents, trademarks, design and copyright has more than doubled since 1990
Over the last ten years business growth from intellectual property investment has been bigger than that of business investment in their fixed capital (for example, hardware, office material and general business spending, but excluding computers)
Copyright and design are the biggest contributors to growth of intellectual property rights - copyright includes software as well as music, publishing, broadcast and film
Around £3 billion of copyright investment is currently not included in national accounts and the Intellectual Property Office is working with the Office of National Statistics to adjust Gross Domestic Product starting in 2012.
The IPO are now working alongside the Office for National Statistics to provide these figures on an annual basis and highlight the growth of intellectual property in the market sector. The two reports have been released today and full details can be found on the IPO website www.ipo.gov.uk.
Notes to editors
The Intellectual Property Office (IPO) is within the Department for Business, Innovation, and Skills (BIS) and is responsible for the national framework of Intellectual Property rights, comprising patents, designs, trade marks and copyright.

Its role is to help manage an IP system that encourages innovation and creativity, balances the needs of consumers and users, promotes strong and competitive markets and is the foundation of the knowledge-based economy.

It operates in a national and an international environment and its work is governed by national and international law, including various international treaties relating to Intellectual Property (IP) to which the United Kingdom is a party.

For further information, please contact Dan Palmer on 0207 215 5303 or e-mail communications@ipo.gov.uk.**
---
Notes to Editors
Contact Information
Name BIS Press Office Job Title
Division COI Phone
Fax
Mobile
Email NDS.BIS@coi.gsi.gov.uk
Name Dan Palmer Job Title
Division Department for Business, Innovation and Skills Phone 020 7215 5303 Fax
Mobile
Published 8 July 2011