Investment in the UK's infrastructure will boost the economy
Deputy Prime Minister Nick Clegg today announced a plan to boost the economy with investment in the UK's infrastructure.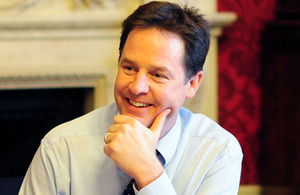 In his speech at the London School of Economics, the Deputy PM said that "Whitehall will put its foot on the accelerator" to ensure the economy feels the benefits from specially selected capital spending plans.
Mr Clegg said that projects such as the rollout of high-speed broadband, work to transform the national grid, and major improvements to the rail network will be given "priority status" to ensure they are not delayed. This was vital, he said, to promote growth:
If you modernise this kind of infrastructure you stimulate activity in the shorter term and you build systems that high growth industries can use for years to come.
Mr Clegg reiterated the Coalition's commitment to reducing the deficit, and spoke of how the UK is an attractive place for foreign investors and businesses.
Touching on the economic pressures across the Eurozone, the Deputy PM said that the UK needed to be part of the solution, rather than distancing itself from the problem. And on the the tough economic conditions that the UK was facing, he stated:
This does not mean we intend to sit on our hands while the economy falters. We can do more, we are doing more, we will do more.
Published 14 September 2011