News story
Investment and jobs for Humber region
Vince Cable puts puts focus on investment and job creation on Humber visit.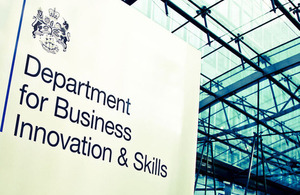 Business Secretary Vince Cable has today toured Alexandra Dock where Siemens plans to build an £80 million wind turbine factory which will create 700 jobs, expected to be operational by 2014.
Under the development plan Associated British Ports (ABP) will build a £100 million deepwater berth capable of handling the new generation of large offshore wind developments.
Business Secretary Vince Cable said:
"The transition to a green economy presents significant growth opportunities both in the UK and abroad. The UK has the sixth largest low carbon economic goods and services market in the world.
"The offshore wind sector has the potential to create 70,000 jobs in the UK. We are committed to making sure that UK businesses get a headstart and seize those opportunities now."
Developing a Green Port
Siemens signed a memorandum of understanding with ABP on a proposed Green Port development at the Alexandra Dock Hull, which under the deal includes the deepwater berth and wind turbine factory. Hull City Council believes this investment could bring up to 10,000 new jobs to the area to support offshore developments and renewable energy opportunities.
ABP is Britain's largest and leading ports group handling around 150 million tonnes a year and employing nearly 2,000 staff across the business. ABP owns and operates 21 ports in England, Scotland and Wales.
Tata Steel
Vince Cable also visited Tata Steel in Scunthorpe and met members of the Tata Steel Economic Response Task Force and the chair John Clugston.
The Business Secretary set up the Taskforce in May after Tata Steel announced restructuring plans.
Vince Cable said:
"Tata Steel has had to make tough decisions in respect of the workforce in its Long Products business but we have welcomed its plans to invest up to £400 million to make the company more competitive.
"I look forward to having a constructive meeting today with members of the Taskforce and chair John Clugston. I have been impressed by what I have heard so far on their plans to make Scunthorpe a good place to do business and encourage job creation and investment.
"We have already deployed the JobCentrePlus Rapid Response Service to provide support to those workers who will unfortunately lose their jobs and we welcome Tata Steel's cooperation. We will continue to work with them on this."
Links
Published 20 July 2011