Press release
Investigation after waste illegally dumped
The Environment Agency is working with partners to investigate reports of large amounts of waste being dumped in rural locations.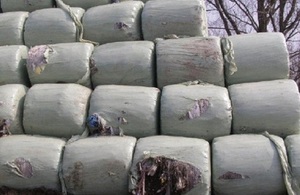 The Environment Agency is working with partners to investigate reports of waste being illegally dumped on land in rural North East locations.
Last week at Bishop Auckland in County Durham, approximately 40 tonnes of general mixed waste was illegally tipped out the back of a waggon and into a field.
A second lorry was prevented by Durham Police from tipping its waste and has been seized by Durham County Council pending further investigation.
A second case near Sadberge, near Darlington, saw old processed waste that had been wrapped in 80 black plastic bales dumped on land without the landowner's permission.
And on Wednesday, 7 September, 20 bales of old processed waste wrapped in plastic were found to be dumped at a farm near Northallerton.
The Environment Agency is working with police and local authorities for the areas to follow up lines of enquiry to identify those responsible.
Determined to tackle waste crime
Dave Edwardson, Enforcement Team Leader at the Environment Agency in the North East, said:
At first glance waste that is wrapped in bales can be mistaken for hay or silage.

We've also previously investigated cases where waste has been dumped in vacant buildings leaving landowners with the responsibility and costs of disposing of the waste.

We're determined to tackle waste crime such as this; waste that isn't managed properly can impact on communities, the environment and legitimate businesses and won't be tolerated.

I'd urge all landowners, farmers and property agents to be vigilant and report any concerns or anything suspicious to us straight away.
Operation Stop It!
Ian Hoult, Durham County Council's neighbourhood protection manager, added:
We take all reports of waste being dumped illegally extremely seriously.

We launched Operation Stop It! with partners including the Environment Agency, Durham Constabulary and Crimestoppers in 2014, to reduce the amount of fly-tipping in our area.

The campaign, which involves educating people on how to dispose of waste responsibly and taking action against those who flout the law, has resulted in a decrease in incidents of more than 20%.

The recent actions are great examples of how working in partnership can achieve results.

We would urge the public to be vigilant and report any fly-tipping to us or our partners.
Anyone with information about those responsible or about similar incidents, is asked to contact the Environment Agency's 24-hour Incident Hotline on 0800 807060, or Crimestoppers anonymously on 0800 555 111.
Published 9 September 2016