World news story
Interview with Anthony Cheetham, Vice-President of the Royal Society
Royal Society Vice President, Professor Anthony Cheetham, led the UK delegation to Madrid and answered questions about the new European framework and the UK-Spain science relationship.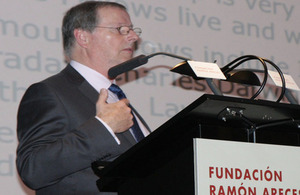 The Royal Society, The Spanish Foundation for Science and Technology (Fecyt) held the second annual Networking Nations event in Madrid on February 21. Organised with the support of the Fundación Ramon Areces and with the collaboration of the embassies of the UK and Spain, this year's event focused on the science behind sustainable energy with an eye to continuing partnerships under the next EU science funding programme, Horizon 2020*.
Q: What kind of opportunities does the new EU programme "Horizon 2020" bring for Spanish and UK researchers?
A: The 2020 programme is an extension of the FP7 programme so this will run from 2014 to 2020 and will have 30% more money in real terms, something that is a major incentive for people. It obviously has a major international component for countries within Europe and Spain has been a major partner of the UK in the past. Britain has been involved in about 40% of the FP7 programmes so we are hoping to keep that going in the future, despite that fact that these things are very competitive of course. We have developed a significant base of collaboration across Europe through FP7 and we hope to see that grow in the next phase.
Q: How do you see Horizon 2020 differing from FP7?
A: Aside from the fact that there is going to be more money, there will also be a greater focus on greater collaboration with industry as well. There is going to be, I think, a greater emphasis on translational activities that go from laboratory into innovation and wealth creation and this will be an important difference. They have also made the processes easier, bringing what were separate organisations such as the ERC (European Research Council) programmes, under the one umbrella.
Q: Given that the UK and Spain have already worked together through FP7, can you elaborate on what makes Spain a good partner for Horizon 2020?
A: Spain is one of the leading scientific nations in Europe and this is the principal reason. Spain is up there with Germany, France, Switzerland and the Netherlands so it is very important to us. There is also a long tradition of collaboration between the UK and Spain. Something else that has changed a lot over the last few years is that we have a lot of Spanish researchers in the UK now, many more than 20 years ago when there were virtually none. Now there are many who have come to the UK under various EU programmes and also under programmes run by the Royal Society, including our fellowships for university researchers that provide 8 years of funding to carry out research without the requirement that they also teach. It is something that is also good for Spain in the long term as many Spanish scientists that are working in the UK now will forge networks and will eventually come back and take those contacts with them.
Q. What role can science play in the economic recovery of Spain and the UK.
A: In the past governments were highly sceptical of the link between investment in the science base and economic benefits and over the last few years I think most governments, and certainly the British government, have realised that there is a strong link there. I think that as European economies are increasingly gravitating towards knowledge-based economies and therefore having a strong science base become important to them. I think one of the interesting statistics that illustrates this in Britain is that two-thirds of the economic growth that we have had over recent years has been driven by science and technology enterprises.
Q. What roles does Science play in diplomacy and relations between countries?
A: I think it plays a very important role and there is a long history of it. I think it was Benjamin Franklin, himself a fellow of the Royal Society, who used his international connections to smooth the way for Captain Cook to travel around the world and visit countries that might have otherwise been hostile. I don't want the Royal Society to be always looking back at history and for that to be our greatest moment. Coming right up to date, a couple of recent examples include one where The Royal Society has supported group of scientists going into North Korea to do seismic studies around the Mount Paektu volcano. Another example is the relationship between Britain and China, where scientists have continued enjoying a large degree of access despite tensions in other areas of the relationship. Science is an international business and scientists have great networks that can help open lots of doors.
Q: What do you hope will be the outcome of the Networking Nations conference?
A: What I'd really like to see from this meeting is a series of proposals to the EU under the Horizon 2020 programme for collaborations going forward, and I'd be surprised if something more doesn't come out of that. Certainly we have come to Madrid with some of the leading people from the UK in this particular area and I think there is a good chance that we can start some new collaborations.
Horizon 2020 is the largest EU Research and Innovation Programme to date with over €80 Billion available in funding over 7 years.
Published 22 January 2014