International Women's Day 2012: message from the Deputy Prime Minister
Deputy Prime Minister Nick Clegg has recorded a video message for International Women's Day 2012.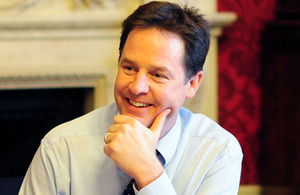 International Women's Day 2012
Full transcript below:
Today, International Women's Day, is about celebrating the many achievements, economic, political and social, of women across the world.
A lot has changed since the first International Women's Day, 101 years ago, when one million women took to Europe's streets, demanding the right to work, the right to vote and an end to discrimination.
But there is still a great deal to be done, and that's true across the world. That's why the Coalition has made transforming the lives and education of women and girls a cornerstone of our international development effort.
But it's also true here in the United Kingdom. And now, more than ever, as we look to grow and rebalance our economy. We need to make the most of all of the talent we have.
Empowering women is about equality and fairness, but it's about our national strength too.
So the Coalition is taking action to knock down the barriers that remain. Whether by making it easier for women to balance work and home, for example through childcare, we're increasing the early education available to three and four years olds, and extending support to disadvantaged two year olds.
Whether by encouraging more girls and women to aim for the top, funding, for example, 5,000 mentors to support women in business.
Whether by helping women smash the glass ceilings that still get in their way. And a big part of that is about shining a light on the closed nature of our corporate world. We're determined to see our boardrooms, still dominated by men, open their doors to more women too.
When it comes to greater equality between the sexes, there is no room for complacency. We must not mistake progress for 'job done'. So yes, today, let's look back on the huge strides that have been taken.
But this fight isn't finished yet. So let's look to the future too.
Published 8 March 2012