International Women's Day 2011: Deputy Prime Minister message
Nick Clegg hails International Women's Day as a moment to reflect on what more needs to be done for equality and women's rights.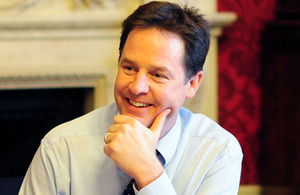 The Deputy Prime Minister said the Coalition Government was working hard to dismantle barriers holding women back and welcomed the launch today of a new action plan to tackle violence against women.
Nick Clegg said:
All over the world International Women's Day is used to recognise the enormous contribution women make to their communities and their countries. It's a moment to celebrate that contribution, as well as to reflect on what more needs to be done to ensure women everywhere can live free from oppression, able to exercise their rights freely and equally.

The Coalition Government is working hard to dismantle the different kinds of barriers that still hold too many women back. Today we are launching a new action plan to tackle violence against women, supporting victims and ensuring offenders are brought to justice. We're also making it easier for women to expose unscrupulous and discriminatory pay practices in the workplace. Plus we want to give women and men the flexibility to better balance work and home, which is why we're shaking up the outdated rules on parental leave, allowing mothers and fathers to share it much more evenly.

Internationally, the Government has also made improving maternal health in developing countries an absolute priority. We understand that happy, thriving families - as well as prosperous societies - depend on healthy women and girls.

So let's mark today - the 100th ever International Women's Day - by remembering that huge strides have been made in the fight for equality between the sexes. But let's also look forward - we still have more to do.
Read more: Call to end violence against women and girls: action plan (Home Office)
Read more: Government Equalities Office
Previous story: More freedom for parents
Published 8 March 2011