News story
International troops get tough in Wales
17 international military teams descended on Mid Wales to take part in this year's Exercise Cambrian Patrol.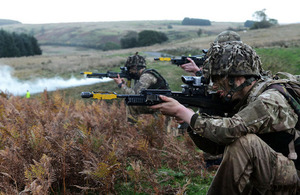 Troops from Norway, New Zealand, Ukraine and the USA were among those who took part in the event, which prepares and tests soldiers in some of the harshest terrain in the Welsh Black Mountains. The exercise culminated in a shooting match on the Sennybridge Training Area (SENTA), which is run by the Defence Infrastructure Organisation (DIO).
Regular and reserve soldiers in the British Army also fronted up to the challenge, which included 110 teams. British teams included a total of 55 regular patrols, 12 reserve and 16 teams from the University Officer Training Corps (UOTC).
The exercise was split into 7 phases with teams marching a mind-and-muscle-sapping 55 kilometres carrying full personal kit and equipment, weighing in at some 60 pounds (27 kilograms), on the 2-day patrolling mission.
Speaking in the hide area before setting off, Wales UOTC Officer Cadet Matt Brown, 20, from St Neots, Cambridge, said:
I know this exercise has quite a formidable reputation, but I don't think it would be as much fun to do if it didn't have that background.

That means if you do well then you've really performed to a high standard and shown your abilities in military skills, fieldcraft and that you have the fitness and mental toughness.
Navigating both by day and night, patrols faced many testing and specialist challenges, including observation and reconnaissance of enemy forces, cold river crossings in full kit without access to boats, first-aid and defensive shooting under attack. At the completion of their patrol, each team faced a comprehensive debriefing session on their mission.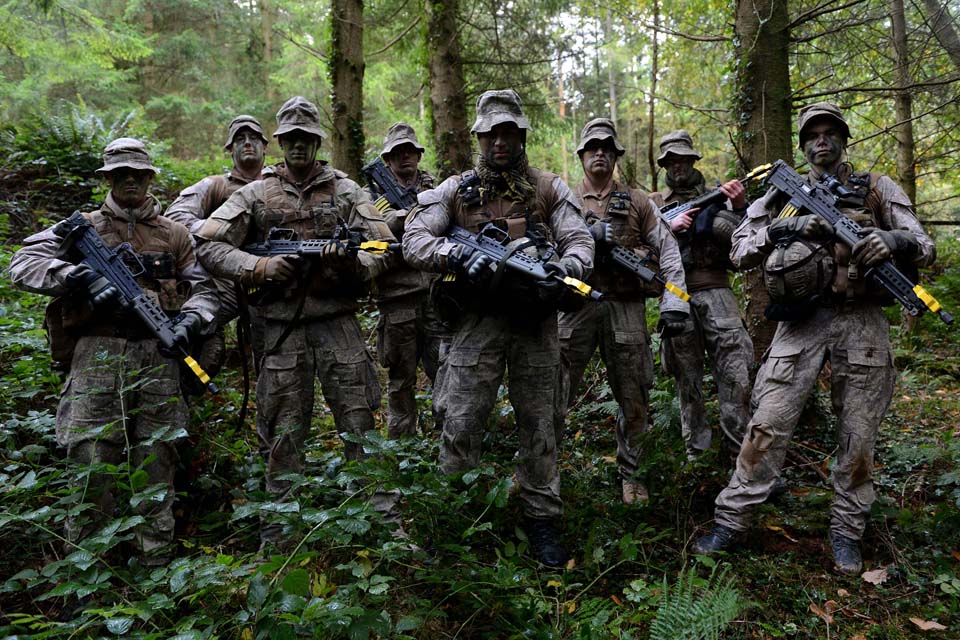 Military skills, stamina and dedication were constantly evaluated during the patrol and marked with a system of points. Teams that successfully completed their patrol were awarded a gold, silver or bronze medal or certificate of merit depending on the total number of points they gained.
2nd Battalion The Royal Australian Regiment was the only international team to scoop gold, while the Wales UOTC team managed to achieve a gold medal for the first time, alongside an equally impressive performance from Leeds UOTC.
Cambrian Patrol Warrant Officer, Warrant Officer Class 2 Stephen Eaves, from 160 (Wales) Brigade, said:
This year's event has been another big success and there were a record number of initial entrants. However, we can only accommodate so many patrols and there is a limit.

There is a huge amount of work that goes into making this exercise as realistic and demanding as possible. It's the ultimate challenge for the modern-day soldier and patrols who completed Cambrian can be rightly proud of their achievements.
The annual event is a highlight in the British Army's training calendar. Internationally, it is regarded as one of the toughest tests facing the modern-day soldier and some foreign entrants earn the right to take part by winning their own domestic competition.
Talking about the exercise, Major (Retired) Eddie Mahony, Senior Training Safety Officer for DIO Operations Training Wales and West, said:
DIO's priority is to support our Armed Forces as they prepare for operations. Sennybridge Training Area, consisting of nearly 15,000 hectares, has the capacity to accommodate 1,151 soldiers at any one time and is well-suited to exercises of this kind.

We are proud to be able to offer the conditions and facilities to support an international challenge of this kind.
Sennybridge Training Area (SENTA)
SENTA is the third largest military training area in the UK and is located on the Mynydd Epynt, a plateau that lies between the Brecon Beacons to the south and the Cambrian Mountains to the north.
The camp provides the administrative base for units conducting training, and the headquarters of DIO's Operations Training Wales and West, as well as live firing and dry training.
Published 25 October 2013