Press release
International Trade Secretary meets US Commerce Secretary
Discussions focused on strengthening trade between the UK and the US.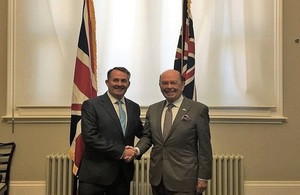 The International Trade Secretary, Dr Liam Fox MP, met US Commerce Secretary Wilbur Ross in London on Monday (2 July). They had a constructive conversation ahead of the next meeting of the UK-US trade and investment working group later this summer.
They discussed the importance of long-term, stable, reciprocal economic investment and how this underpins broader stability.
They also discussed areas where trade between the 2 countries could be strengthened ahead of the UK's exit from the EU. The International Trade Secretary reiterated the need for a global response to issues like production and demand, and highlighted the importance of UK exports to US businesses and security.
The International Trade Secretary and US Commerce Secretary discussed the recent US decision to impose tariffs and Dr Fox expressed a need for a swift resolution to securing product exemptions for UK businesses affected by the recent US tariffs.
Media enquiries
Published 3 July 2018