Press release
International Trade Secretary Liz Truss meets with US Ambassador
Readout of meeting between International Trade Secretary Liz Truss and American Ambassador to the United Kingdom Woody Johnson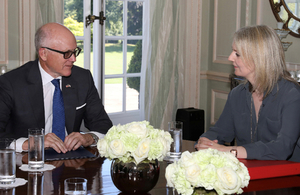 Yesterday (Monday 29 July) in her first official external meeting as International Trade Secretary, Liz Truss met with American Ambassador to the United Kingdom Woody Johnson at Winfield House to discuss fast-tracking a USA-UK free trade agreement.
The Trade Secretary and the Ambassador agreed that both Governments want to get on with negotiating and securing a free trade agreement as soon as possible, and that the Trade Secretary would visit the US to progress discussions further.
The Trade Secretary said a new UK-US free trade agreement is the number one priority trade agreement for her department, and this point was welcomed by Ambassador Johnson.
The Ambassador also welcomed the proactive new approach being taken by this government, reiterating the messages delivered by President Trump during his call with the Prime Minister.
The International Trade Secretary Liz Truss said:
Negotiating and signing exciting new free trade agreements is my top priority – and none are more important than with the United States. This deal has the potential to deliver new markets for great British products and services and lower prices and more choices for British shoppers.
We are fast-tracking these deals, and making sure British businesses are ready to trade so they can take advantage of the golden opportunities ahead.
Department for International Trade
King Charles Street
Whitehall
London
SW1A 2AH
Telephone +44 (0) 20 7215 5000
Published 30 July 2019