World news story
International Trade Secretary Liam Fox's first visit to Hong Kong
International Trade Secretary Dr Liam Fox will meet government leaders and businesses this week in his first official visit to Hong Kong since being appointed the UK's Secretary of State for International Trade.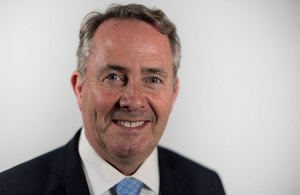 He will be meeting Chief Secretary Carrie Lam and Acting Financial Secretary Prof KC Chan. During these meetings the International Trade Secretary will hold discussions on a range of issues including ways to deepen the UK and Hong Kong's bilateral trading relationship.
Dr Fox will also address business leaders at the British Chamber of Commerce in Hong Kong, and meet with a number of companies including tech investors and UK-based electric car manufacturers Detroit Electric.
International Trade Secretary Liam Fox, said:
The UK and Hong Kong already enjoy a close trading relationship, with UK exports to Hong Kong totalling over £8 billion in 2015. As the UK adopts its new position as the beating heart of global trade, our long-standing trading relationship will continue to go from strength to strength, working to break down barriers as champions of free trade.

The UK is open for business and my department is working with both investors from Hong Kong and China to take advantage of opportunities for investment in the UK, and with UK companies to branch out into these highly competitive markets.
Over 630 UK companies have offices in Hong Kong, with more than 120 British businesses setting up their regional headquarters here and thousands more coming to close deals and conduct trade.
Hong Kong is also a major investor in the UK, helping to create jobs and growth in manufacturing, infrastructure, fintech and property development. In December, the UK's Financial Conduct Authority and the Hong Kong Monetary Authority entered into a new agreement to promote innovation and reduce barriers for financial and fintech companies looking to expand overseas.
Published 3 January 2017