World news story
International Labour Organisation Governing Body: UK Statement
This UK Statement was made at the International Labour Organisation Governing Body Session on the protection of workers from unacceptable forms of work on 1 November 2017.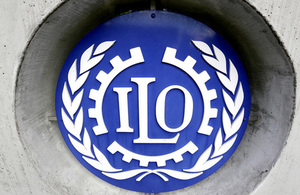 The UK aligns itself with the statement of the EU and its Member States. We would like to thank the Office for their overview of the Outcome 8 strategy to protect workers from unacceptable forms of work, and for their hard work in taking it forward.
We welcome the contribution made by the ILO through Outcome 8 and its significance for the achievement of Target 8.7 of the Sustainable Development Goals. Success in eliminating or reducing unacceptable forms of work will be key in accelerating progress towards the realisation of decent work for all men and women by 2030.
The UK is firmly committed to meeting Target 8.7 and to ending forced labour, modern slavery and human trafficking. Our Prime Minister, Teresa May, has made tackling modern slavery a priority for our Government, and we are working hard at home and internationally on this issue. At this year's UN General Assembly our Prime Minister launched a "Call to Action to end Forced Labour, Modern Slavery and Human Trafficking". She was very grateful for the Director General's support for and at this event.
The UK's Call to Action and Target 8.7 make clear that no matter what term we use to describe this horrific exploitation, we all have the same goal – to eradicate the crime of what we call Modern Slavery from our societies. We have set out, in our Call to Action, specific commitments to tackle modern slavery nationally and internationally. It has been endorsed by 37 countries so far, who are committed to implementing the relevant conventions, protocols and international processes. These include the UN Convention against Transnational Organized Crime, the Palermo Protocol and the Global Plan of Action on Trafficking, as well as the ILO's Forced Labour Protocol and the 1956 Convention on Slavery.
To translate political commitments into action, we need to ensure a joined-up approach and enhanced international cooperation. We welcome international cooperation mechanisms which improve information sharing and spread best practice, including the important work of Alliance 8.7. The UK's Secretary of State for International Development, Priti Patel, attended the Alliance 8.7 event at UNGA which launched the ILO and Walk Free Foundation's new global estimates on modern slavery, and which gave us the horrific statistic that 40 million people around the world are victims of modern slavery. 71% are women. 25% are children.
Strong UN leadership is vital if we are to meet our commitments on modern slavery and translate them into concrete action on the ground. The ILO has a crucial role to play in this. It is a development issue, a human rights issue, and a security issue. We all need to work together to ensure progress is made, urgently, to address the scale of the problem.
The right legal frameworks are in place, such as the Protocol to the Forced Labour Convention agreed in 2014. But the ratification level is still too low and the gap between ratification and implementation is a problem. We therefore strongly support the ILO in its efforts to encourage other Member States to ratify and implement the Protocol and are campaigning on behalf of the ILO's 50 for Freedom Campaign.
We must make this a priority internationally. It requires action on many levels and we look forward to further discussions in the ILO on supply chains. We need to take action on the ground to ensure that existing protocols are being adhered to and to support states, businesses and individuals in stamping out poor practice. We therefore welcome the initiatives set out in this paper and the work of the ILO on Outcome 8.
It is our sincere hope that the 4th Global Conference on Child Labour hosted by Argentina later this month will further galvanise Members States and others to further step up their efforts in meeting SDG 8.7.
Published 1 November 2017