News story
International growth ambitions highlighted in south west
Dominic Jermey, Chief Executive of UK Trade and Investment (UKTI) met local businesses in Bristol and north Somerset during a visit on 17 March 2015.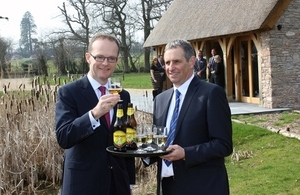 International trade support was high on the agenda during Dominic Jermey's first visit to the south west region.
Dominic Jermey started his visit by attending a roundtable discussion with representatives of:
Dominic was hugely impressed by the innovation and ambition he saw during his visits to local businesses.
Speaking after his visit he said:
British products and services have a strong appeal around the world, and the expertise of companies in the south west make a great contribution to the UK brand, showing why the UK is top in Europe for foreign direct investment.
Meeting south west exporters
Dominic Jermey said:
By working with companies like Thatchers and Beyond the Bean, we want to inspire other south west companies to grow their international customer base.

Expert advice and support on selling overseas is available UK Trade and Investment to all companies to start them on the path to exporting success.
Thatchers Cider
Dominic visited Thatchers Cider in Sandford, where he was given a tour and heard about the company's export success.
The company is now exporting across Europe, Australia and New Zealand after having taken part in various UKTI programmes and initiatives.
Beyond the Bean
A visit to Beyond the Bean in Ashton Vale enabled UKTI's CEO to discuss the support that the coffee and drinks product specialist has received from UKTI.
The company has secured business in over 40 countries, including the USA and Singapore over the last 10 years.
Inward investment into south west region
During his visit Dominic also met supercomputer developer and storage solutions specialist Cray.
Cray was recently awarded the contract to build The Met Office's new £97 million supercomputer. Dominic discussed the company's recent investment in its European headquarters in Bristol.
Contact UKTI for export help
Published 18 March 2015