World news story
International families invited to live a "Green is GREAT Day" in Chongqing
Consulate in Chongqing hosted a Green is GREAT Day to raise public awareness of climate change and environmental protection.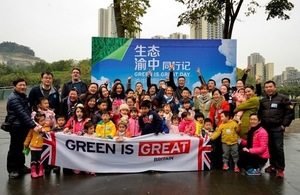 A 'Green is GREAT Day' was held on 12th December in Chongqing Tiandi, Yuzhong District by the Overseas Chinese Youth Association of Yuzhong District, Western Returned Scholars Association, British Consulate-General Chongqing and Chongqing News Net. The aim of the event was to rally people from around the world and all walks of life to address the challenge of climate change by doing their bit to contribute to the sustainable development of society.
Leaders of the world gathered in Paris FOR COP21 over the past two weeks, where they discussed international cooperation to tackle climate change and promotion of the green economy with the ultimate aim of realising a world of sustainable development. By the close of the conference on Saturday, representatives from over 190 countries had achieved consensus on the Paris Agreement, pledging to contain the rise of global temperature within 2°C. However, combating climate change requires much more than cooperation among governments-each and every one of us has their own part to play in creating a green society.
Around 60 participant families were invited to enjoy interesting outdoor interactive games and natural handicrafts classes which enabled participants to understand the impact of climate change from its effect on birds, insects and plants to the biosphere, food safety and human health. Green is GREAT Day promoted the scientific knowledge on climate change, the vital role played by COP21 and the concept of peaceful coexistence between people and nature.
Ms.Tina Redshaw, Consul General of British Consulate-General Chongqing quoted a catchword in China's social media: "qizhi" (气质, or air quality) in her opening speech.
She said:
The local qizhi and global qizhi are so closely intertwined that they have mutual impact.
To improve qizhi we need two solutions: one is energy-saving and the other is clean energy.
Ms. Redshaw called on participants to lead a low-carbon lifestyle and reduce their energy consumption.
Document information
Published: 17 December 2015