World news story
International English Language Testing System in Ashgabat
On 5 December 2015 there will be an opportunity to take the UKVI IELTS Academic and IELTS Life Skills tests in Ashgabat.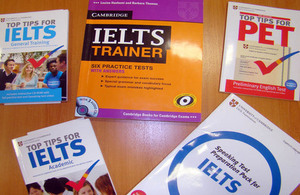 The University of Cambridge International English Language Testing System (IELTS) is an examination recognised by universities, employers and governments around the world as an objective and accurate measurement of communicative ability in English.
IELTS is on the UKVI list of approved Secure English Language Tests (SELT). If you need an IELTS test result as part of your application to UK Visas and Immigration (UKVI), you will need to take your test at a specific test location authorised by UKVI.
There will be an opportunity to take an IELTS for UKVI and IELTS for Life Skills in Ashgabat on 5 December 2015. Both tests will take place at Ak Altyn Hotel, Magtymguly Avenue 141/1, Ashgabat, Turkmenistan.
The cost of IELTS UKVI test is £200 and IELTS Life Skills A1 and B1 £150.
Candidates who wish to sit either of these exam modules should register online at https://ieltsukvisas.britishcouncil.org by 26 Nov 2015.
All interested candidates must pay the examination fee online.
Published 28 October 2015