News story
International Development (Official Development Assistance Target) Bill 2015 receives Royal Assent
Following its successful passage through Parliament, the International Development (Official Development Assistance Target) Act 2015 has received Royal Assent.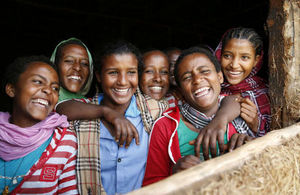 The legislation was introduced to Parliament by Michael Moore MP and was supported by the Government.
In 2013 the UK delivered on its pledge to spend 0.7% of gross national income (GNI) as official development assistance (ODA), becoming the first G7 country to meet this longstanding commitment. This Act of Parliament means this commitment is now enshrined in law.
UK investment in overseas development is creating a world that is healthier, more stable and increasingly prosperous. This is something British people can be proud of. Building economic growth and creating jobs helps developing countries lift themselves out of poverty and creates new markets for British businesses to invest in.
We believe in being a country that shapes the world. Tackling poverty overseas means tackling the root causes of global problems such as disease, drugs, migration, terrorism, and climate change. This is not only the right thing to do, it is also firmly in Britain's own national interest. Delivering 0.7%, along with a permanent seat at the UN Security Council and the UK's role as a founder member of the G8, demonstrates Britain's global leadership.
The UK delivers aid to where it is most needed and where the best results can be gained for taxpayers' money. Some key achievements between March 2011 and January 2015 include:
24.5 million children under-5, breastfeeding and pregnant women have received relevant nutrition interventions, exceeding the target of 20 million;
3 million people in 6 countries have been supported by DFID to achieve increased food security, meeting the target;
8.6 million people have benefited from DFID-supported cash transfer programmes, exceeding the 6 million target;
4.3 million births have been delivered with the help of nurses, midwives or doctors through DFID support, more than double the target of 2 million; and
13 countries have been supported by DFID in freer and fairer elections, meeting the target set.
The UK is a world leader in responding to emergencies:
In Syria, the scene of Britain's largest ever response to a humanitarian crisis where £800 million has been pledged to date, resources are currently focused on protection, counselling and schooling to help prevent a 'lost generation' of Syrian children, with five million children affected by the crisis.
In Sierra Leone Britain's strategy has seen cases of Ebola drop from over 500 each week in November 2014 to around 50 each week in March 2015. The UK's response has saved lives in Sierra Leone and is also preventing Ebola from infecting people in the UK. Britain will continue to provide critical support to Sierra Leone, particularly in the health sector which will help the country to tackle future disease outbreaks. This ongoing package of support brings Britain's total commitment to this response and to the country's early recovery to £427 million.
Further information on DFID's results is available here: https://www.gov.uk/government/uploads/system/uploads/attachment_data/file/410980/DFID_Mid-Year_Report_Achievements_Annex.pdf
The UK's leading role in international development has been recognised by the OECD and the UN. Ban Ki Moon, the UN Secretary-General, has said the UK has proved it is possible to meet global commitments and domestic fiscal needs at the same time.
Using available GNI estimates, DFID sets a clear strategy each year to deliver its ODA target and works with the Treasury to monitor and manage this through the year. The 0.7% ODA:GNI target for 2014 and 2015 will be based on a GNI figure calculated using the ESA 1995 National Accounts methodology.
The main implications of the Bill are:
It places a duty on the Secretary of State to ensure that the 0.7% target is met by the UK in the year 2015 and each subsequent calendar year
Accountability over meeting the 0.7% target is to Parliament, rather than the courts
The Secretary of State must make arrangements for the independent evaluation of the extent to which UK ODA represents value for money. The Secretary of State must include in each annual report a statement as to how he or she has complied with this duty.
Published 26 March 2015